Exploring the Vale of Clwyd
Last week we attended the fifth Familiarisation trip organised by Denbighshire County Council Tourism Team, designed to highlight the best parts of the area with local tourism businesses so they can share the knowledge and encourage visitors to delve deeper into our local history, attractions, cafes and shops.
This time we concentrated on the Vale of Clwyd an area which has recently benefitted from new signage.  Our first port of call was Denbigh Library. Our tour guide Pete,   pointed out walks such as  Lady Baggot's drive along the Clywedog River on the way to Denbigh and the reason they called Lenten Pool in Denbigh was  because  before it  was drained in the 19th century following a cholera epidemic it would have been stocked with fish which provided food for townsfolk and garrison at Denbigh during Lent.
Roland gave us a talk at Denbigh Library explaining that it was originally built as a Town Hall by Robert Dudley, Earl of Leicester and Baron of Denbigh in 1572. Dudley was a great favourite of Elizabeth I at the time and was also responsible for the building of Leicester's Church. Extensively remodelled in 1780, originally the building was a market hall and a courthouse and was then used as a town hall up to the second half of the 20th century. The building is now an extensive public library over 3 floors with rolling exhibitions. Opening times can be found here.  You can't miss the controversial statue of Denbigh's famous son  the Africa explorer  Sir Henry Morton Stanley at the library entrance, as he reaches out to shake your hand. The adventurer is most famous for tracking down the missing missionary  Dr David Livingstone in a remote part of what is now Tanzania in 1871 and uttering the  often quoted words: "Dr Livingstone, I presume?". He acted as an agent for King Leopold II of Belgium and is credited with opening up the African region to the West, only for it to be brutally exploited after he had left. He is known for being one of few people who fought on both sides of the Civil war. He joined the Confederate Army following the outbreak of the American Civil War in 1861 and fought at the Battle of Shiloh. After being captured he quickly changed sides and enlisted in the Union Army. Whatever your views are of Stanley he remains part of Denbigh's rich history and he chased adventure throughout his life.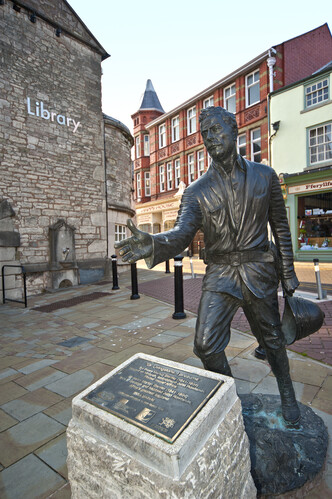 We then walked up to the castle via the link through at Broomhill Lane, enjoying the series of artwork along the way depicting poetry by Rhys Trimble, light fittings in the form of Broom Flowers  as well as the Mabinogion story of Blodeuwedd who is know as the Goddess of flowers who ran away to the forest, only to be tracked down by Gwydion a wizard who is enraged by her betrayal of his nephew. She is turned into an owl, to roam only at night, denied the rays of the sun she loved so much and destined to a solitary life. When you reach the top of the lane you will see a beautiful shield of flowers, turn back around the way you have just walked and you will spot a beautiful owl taking flight.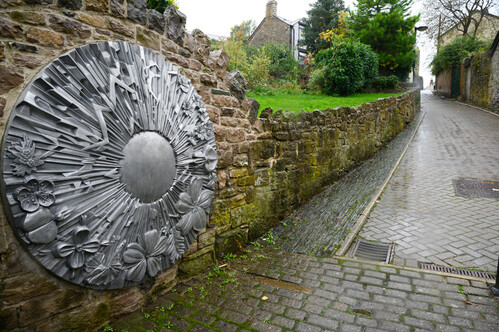 We walked to the castle through Burgess Gate which was one of the two principal entrances into the walled town. Denbigh ("Dinbych" in Welsh, meaning small fortress) is one of the most historic towns in North Wales. The town is first mentioned in records in the years following the Norman Conquest when it became a border town guarding the approach to the Hiraethog Hills and Snowdonia. Denbigh was also probably the location of a fortified settlement during the Roman occupation and in the twelfth century, Dafydd ap Gruffydd, the brother of Llewelyn, the last Prince of Wales, had his headquarters here. Edward I created the Lordship of Denbigh in 1282 which was granted to Henry de Lacy who authorised the building of Denbigh Castle to be built over the stronghold of Dafydd ap Gruffydd. The castle's finest feature is its triple-towered Great Gatehouse bearing the unmistakable stamp of Master James of St George, the architect responsible for all of Edward I's major North Wales castles.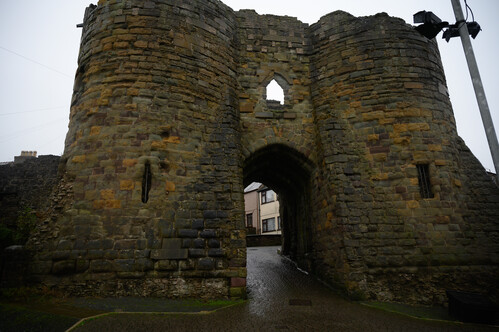 We saw the remains of the unfinished Leicester's Church.  A building started in 1578 with intentions of being the grandest of the period, designed for Protestant service and a potential replacement for St's Hilary's Chapel and possibly St Asaph Cathedral. It was only progressed as far as window height due to lack of finances and local opposition and was abandoned completely when Dudley died in 1588. Elizabeth I was deeply affected by his death and kept his last letter to her by her bedside until her own death 15 years later.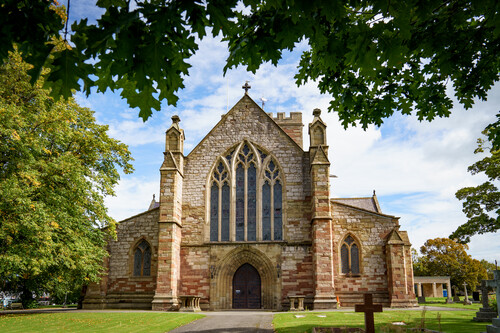 Our next stop was a fabulous lunch at the Translators' Tearoom café at St Asaph cathedral. It was time for a bit of networking and a talk from David about rich and varied history of the cathedral.  First built in the 13th century but in the perilous 'war path' of the Welsh Princes and English Kings little is known of how much damage the original building would have suffered. Remodelled in the 14th century using fine-grained yellowish sandstone quarried at Flint for the outer casing of the walls and for mullions and other carved work. Used as a stable by Owain Glyndwr in 1402 it has since become the beautiful building we see today.  It really does take your breath away and it is open with a service 365 days of the year and an active choir who you may hear practising on your visit.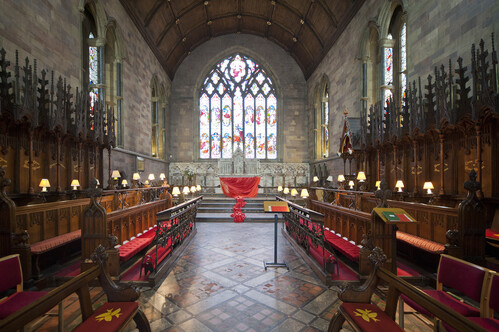 We then visited Rhuddlan castle another of Edward I strongholds. He liked his castles to be on the coast in order to easily obtain supplies by sea if his campaign against the Welsh were not going according to plan. But with Rhuddlan, being inland, the plan was to use a river Clwyd instead. Edward conscripted hundreds of ditch-diggers to deepen and divert its course. Rhuddlan still looks like a castle that was worth moving a river for. Begun in 1277 it was the first of the revolutionary concentric, or 'walls within walls', castles designed also by James of St George. You can still clearly make out the medieval grid layout of the streets in modern-day Rhuddlan and the ditches.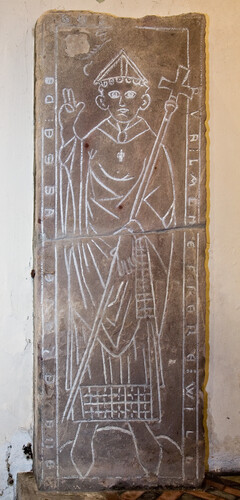 We then walked across to St Mary's Church which has been serving the people of Rhuddlan since 1301 as a place of prayer and worship, celebration and remembrance. It is a beautiful Church and well worth a visit, it was moved to this site by Edward I who it appears was very fond of moving things to suit his overall plans. Inside are many medieval drawings uncovered by previous renovations and are believed to be some of the earliest still in existence in Wales.
We finished our day with a visit to St Margaret's Church (also known as The Marble Church), Bodelwyddan.  This decorated Gothic Style parish church with 202 foot spire can been seen for miles in the lower Vale of Clwyd and easily accessible from the A55 expressway.
The church was commissioned by Lady Margaret Willoughby de Broke from nearby Bodelwyddan Castle in memory of her husband, Henry Peyto-Verney, 16th Baron Willoughby de Broke. She laid the foundation stone on 24 July 1856 and the new church designed by John Gibson was consecrated by the Bishop of St Asaph on 23 August 1860 after construction at a cost of £60,000. The new parish of Bodelwyddan was created on 3 August 1860. Because of its lavish material and design it was nicknamed the 'Pearl of the Vale'.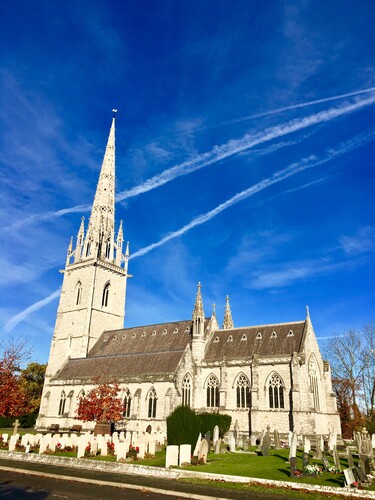 The church contains fourteen varieties of marble including pillars made of Belgian Red marble, a nave entrance is made from Anglesey marble and shafts of Languedoc marble on bases of Purbeck marble. It also contains elaborate woodwork, and in the tower can be found windows of stained glass on the north and south sides, featuring Saint Margaret and Saint Kentigern.  If you look closely, you can see her and her husbands name carved into the roof as well as their faces, she obviously had much input with the design as well as being a beautiful memorial to her late husband.
We certainly packed a lot into our day in the Vale and if you would like to find out more about the area why not consider taking part in our  totally free ambassador course.  Denbighshire was the first to launch an online course of this kind in Wales. A series of online modules on a variety of themes relevant to the area including welsh language, communities, culture, history, sustainable tourism, cycling and walking. There are 3 levels of awards – bronze, silver and gold. Residents, volunteers and local community groups are particularly encouraged to become Ambassadors to learn more about the unique characteristics of the area. If you would like to find out more about the scheme or interested in receiving our newsletters please contact us.