Llangollen has long been one of Wales's most popular inland resorts – and no wonder. Its setting, guarded by mountains and the ruins of 13th century Castell Dinas Brân, is uniquely picturesque.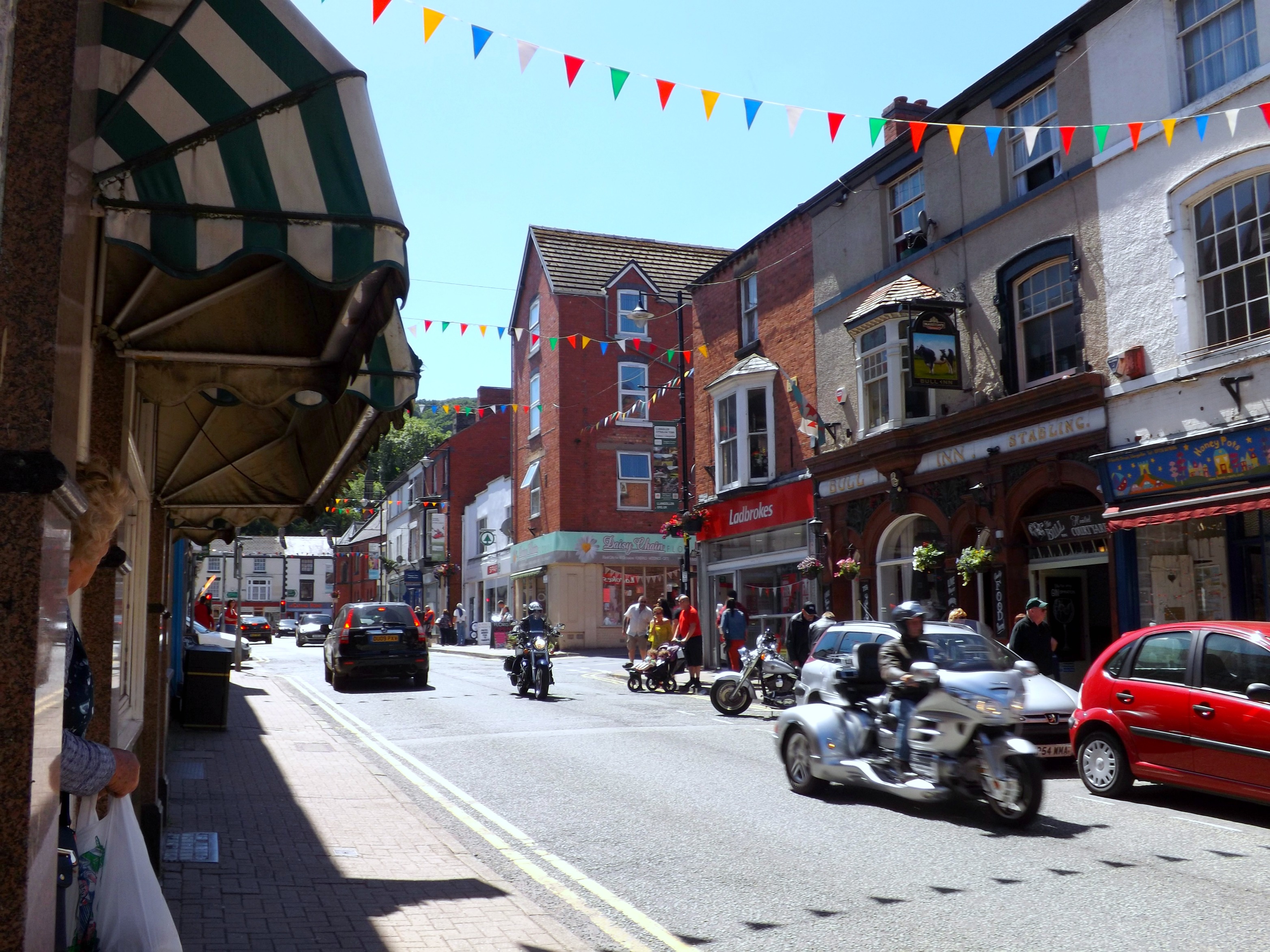 Distance: 2 miles / 3.2 km
Difficulty: Quite flat except for optional walk to Plas Newydd
Walking time: 2 hours
Start point: International Pavilion car park, Abbey Road LL20 8SW
Public transport: Traveline Cymru 0800 464 0000,
National Rail Enquiries 03457 484950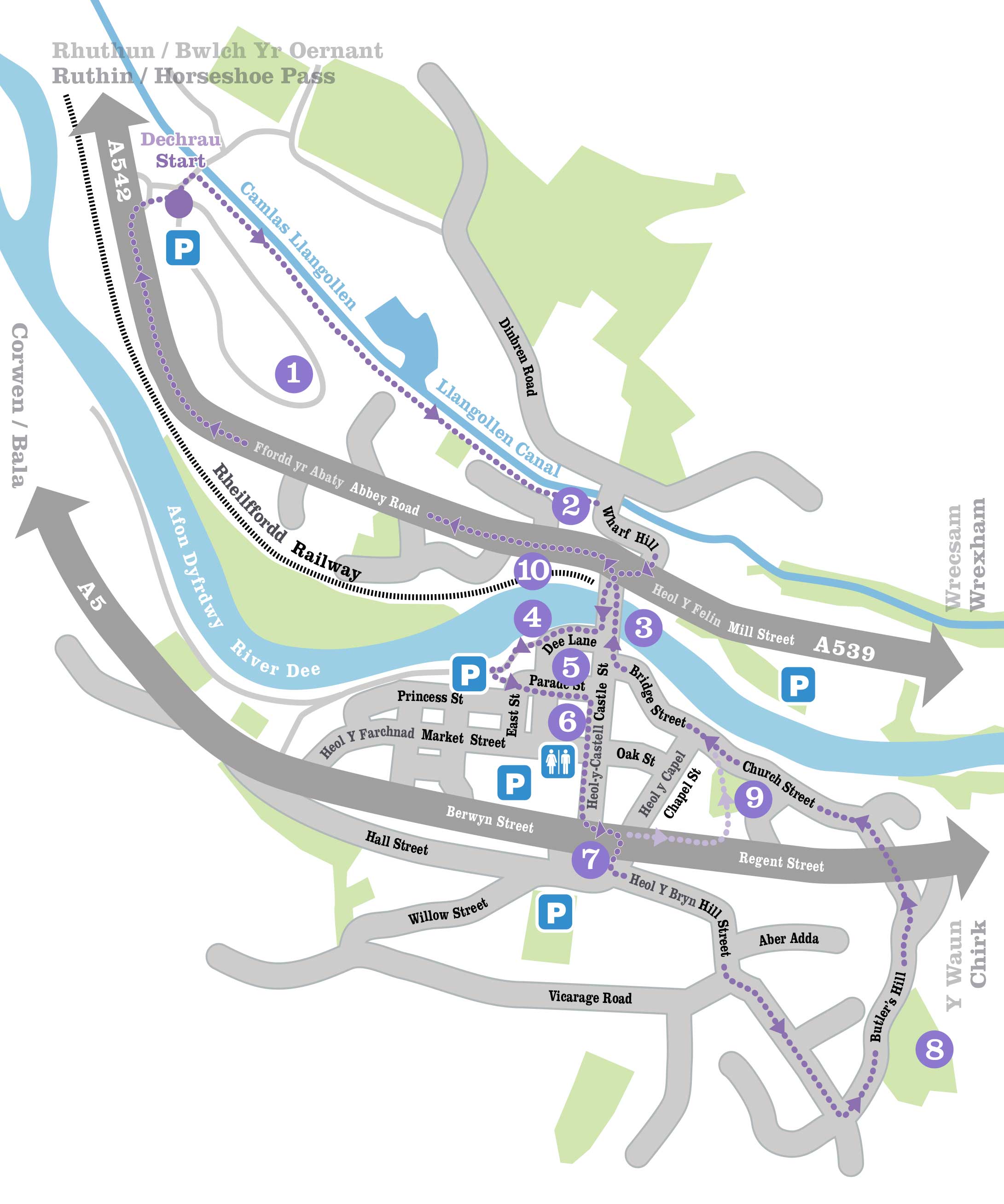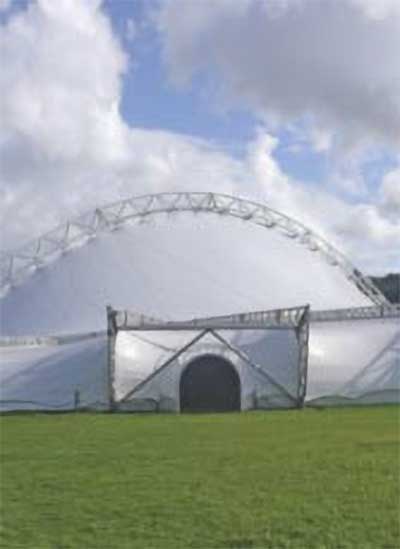 1
Llangollen
Pavilion
Join the canal towpath beside the bridge at the western end of the car park and turn right.
Llangollen Pavilion will emerge on meadowland to your right. Built in 1992 and capable of seating 4,500 people, this is the home of the Llangollen International Musical Eisteddfod. Not content with welcoming 120,000 festival-goers and musicians every July, the Pavilion hosts a year-round programme of concerts and events including Llangollen Food Festival in October.
www.llangollenpavilion.co.uk
https://international-eisteddfod.co.uk
www.llangollenfoodfestival.com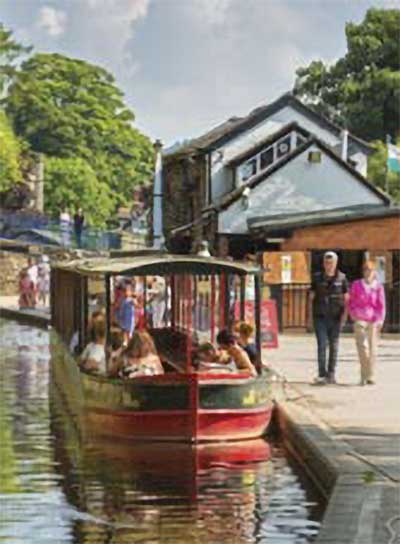 2
Llangollen Wharf
Look around you. Not bad, is it? Every bit as good as the Taj Mahal or the Acropolis, according to UNESCO. So in 2009 they made 11 miles of Llangollen Canal – including the Horseshoe Falls and mighty Pontcysyllte Aqueduct – into one big World Heritage Site. You can catch boats in both directions from here. Horses will pull you towards the Horseshoe Falls but you'll need a motor, and a head for heights, to cross Thomas Telford's awe-inspiring "stream in the sky".
Bear right after passing the tearoom and join Wharf Hill at the bridge. Turn right (or left if you fancy the signposted 45-minute climb to Castell Dinas Brân).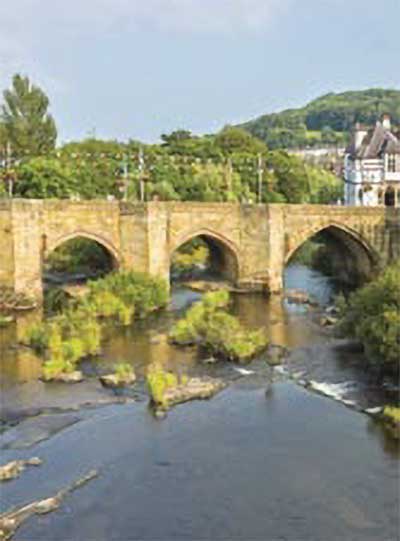 3
Llangollen Bridge
Llangollen Bridge, one of the "Seven Wonders of Wales", was apparently built by Bishop John Trevor in 1345, although nobody knows for sure. It's certainly been altered a bit since then, not least to allow cars across and trains underneath. What we do know is that it provides a magnificent view of the rushing waters of the River Dee, where coracle fishing for salmon was a common sight until the 1950s. Nowadays you're likely to spot canoeists, kayakers and rafters because Llangollen is a hotspot for watersports and other adrenalin-fuelled outdoor activities.
After crossing the bridge, turn immediately right into Dee Lane.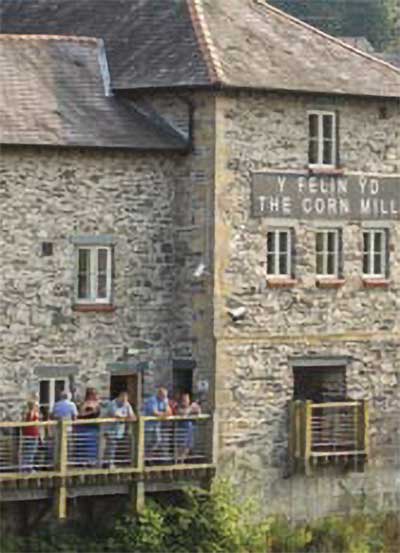 4
Corn Mill
Built in the 13th century by the Cistercians of nearby Valle Crucis Abbey, the Corn Mill was rebuilt in 1786 and remained a working mill until 1974. But it was in danger of falling into the river by the time it was leased to a pub company in the 1990s. Not any more. Now you can see the water wheel turning again behind the bar – and have a drink on wooden decks built right over the mill race and rapids.
Follow the footpath beside the Corn Mill, then turn sharply left – or continue along Victoria Promenade for a scenic detour to Riverside Park with its play area, ball pitch and skate park, plus café and crazy golf in the summer.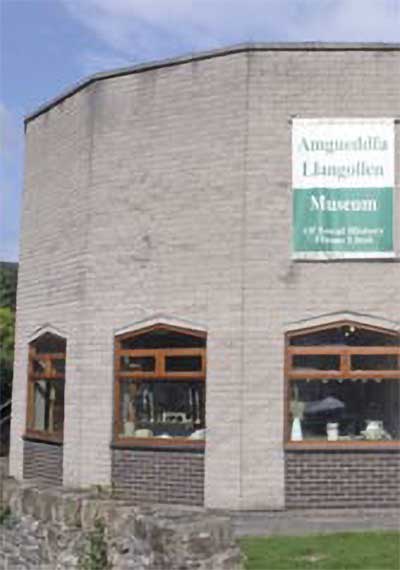 5
Llangollen
Museum
Llangollen Museum is housed in a mid-20th century polygonal building with a striking centerpiece – a full-size replica of Eliseg's Pillar. The original ninth century monument stands near Valle Crucis Abbey on the A542 out of town. The replica differs in two crucial respects. Its inscription is legible. And it's made of polystyrene, although you'd never know. The museum is packed with artefacts, documents and photographs telling the story of Llangollen
through the ages.
On the corner of Parade Street and Castle Street stands the 1867 Town Hall, once the Assembly Rooms and Market Hall.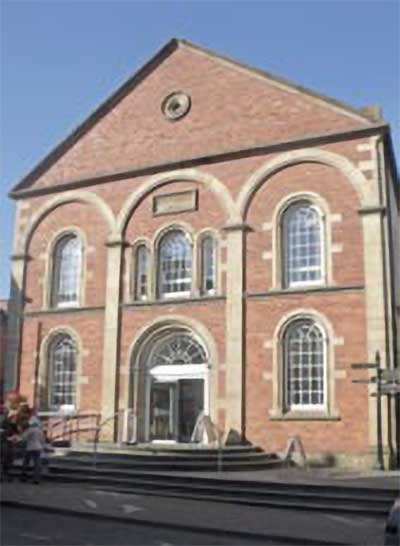 6
Y Capel
Y Capel was built in the 1860s in the Romanesque style (architecture buffs will note the three arches on pilasters beneath the pediment). It was designed to hold a congregation of 400 Welsh Baptists, sadly rather more than proved necessary as the generations went by. By 1982 it had outlived its usefulness as a chapel.
Now it's a fount of all knowledge, with a library upstairs and a Tourist Information Centre below. There's even a contemporary art and crafts gallery. The restored building was opened in 2003 by the greatest Welsh painter of the 20th century, Sir Kyffin Williams, who knew a good thing when he saw it.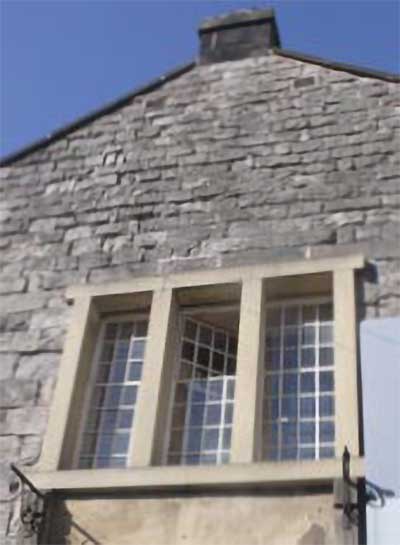 7
The Armoury
Having crossed the A5 at the top of Castle Street, you might pause to reflect that this is part of the immense London to Holyhead road built by Thomas Telford to speed the mail between the capital and Ireland. It was completed by the small matter of the construction of the Menai Suspension Bridge in 1826.
The Armoury has a bit of an identity crisis, also being widely known as The Old Lock-up. This confusion reflects its various uses since it was built as a jail and magistrates court in 1835. It was later used as a town hall and then a drill hall and armoury for the Yeomanry Militia until the end of the 19th century.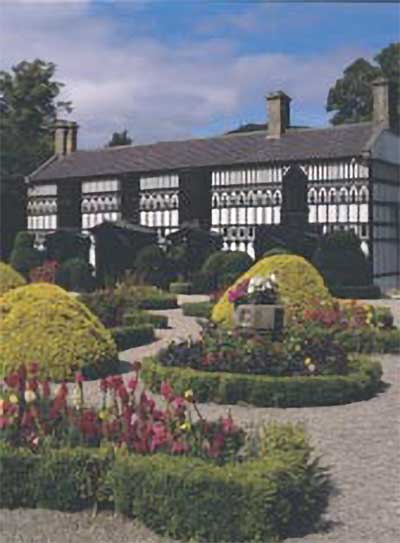 8
Plas Newydd
Walk up Hill Street to Plas Newydd (April-October, gardens all year) or continue down Regent Street and left into St Collen's Church car park.
This is the world-famous home of the Ladies of Llangollen: runaway Irish aristocrats Lady Eleanor Butler and Miss Sarah Ponsonby. In 1780 they moved into a modest cottage together and turned it into a Gothic fantasy of stained glass and carved oak. Their "Romantic retirement" captured the imagination of Regency society and they welcomed a steady stream of intrigued celebrities including William Wordsworth, Sir Walter Scott and the Duke of Wellington.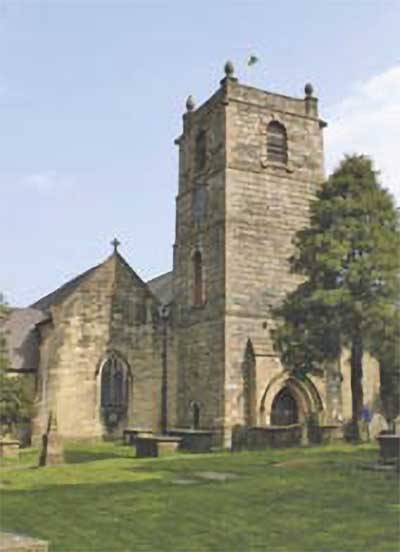 9
St Collen's Church
From Plas Newydd, follow Butler's Hill back down to the A5 and cross into Church Street. Enter the churchyard through the iron gates next to the Hand Hotel.
The church was founded in the sixth century by Saint Collen, Christian warrior and later hermit on Glastonbury Tor, who apparently retired here after vanquishing a local man-eating giantess. The present church is 13th century with drastic Victorian alterations. Thankfully, the wonderful pair of carved hammer-beam roofs survived. Look out for the restored three-sided churchyard monument to the Ladies of Llangollen and their servant Mary Carryl – Italian marble for them, sandstone for her.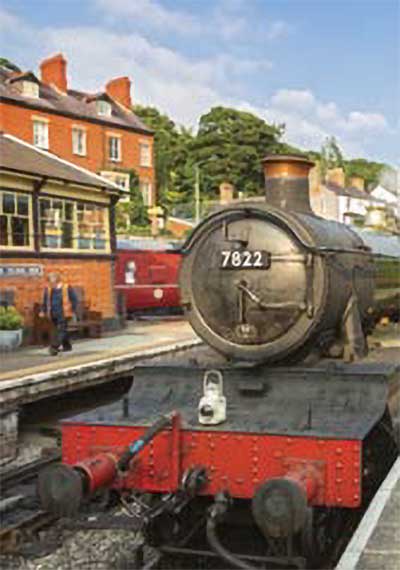 10
Heritage
Railway
Crossing the bridge again gives a perfect view of the 1865 station of the Llangollen-Corwen Heritage Railway as it hugs the north bank of the River Dee. Inside is a café bar serving hot snacks and real ale and (when the trains are running) a gift shop selling all sorts of merchandise. The only standard gauge heritage railway in North Wales now huffs and puffs for almost 10 miles through the stunning Dee Valley, an Area of Outstanding Natural Beauty. Thanks to a long-awaited 2.5 mile extension completed in 2014 by the team of volunteers, you can now ride all the way to Corwen via Berwyn, Glyndyfrdwy and Carrog.