A couple of centuries ago Rhyl was an obscure fishing village on the North Wales coast. By the mid-1800s, thank to the coming of the railway, it was one of the most fashionable watering places in Britain. But you'll also cross a very 21st century bridge and see an incredible multi-million pound waterpark attracting 350,000 visitors a year.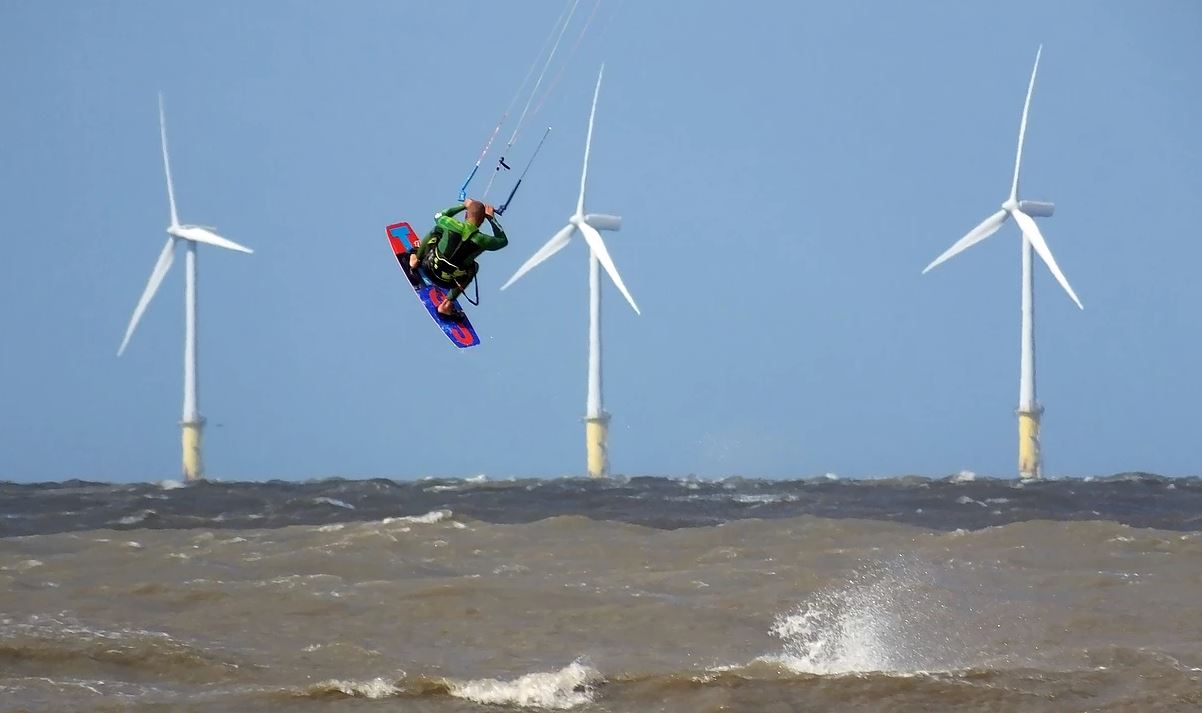 A lot has changed since our ancestors strolled down the promenade in top hats or crinolines. But some things will always be the same – the sea, the sand and a climate officially sunnier than the national average.
Distance: 3.1 miles / 5 km (including detour to Pavilion Theatre)
Difficulty: Easy and flat
Walking time: 2.5 hours
Start point: Skytower car park, West Parade LL18 1HF
Public transport: Traveline Cymru 0800 464 0000,
National Rail Enquiries 03457 484950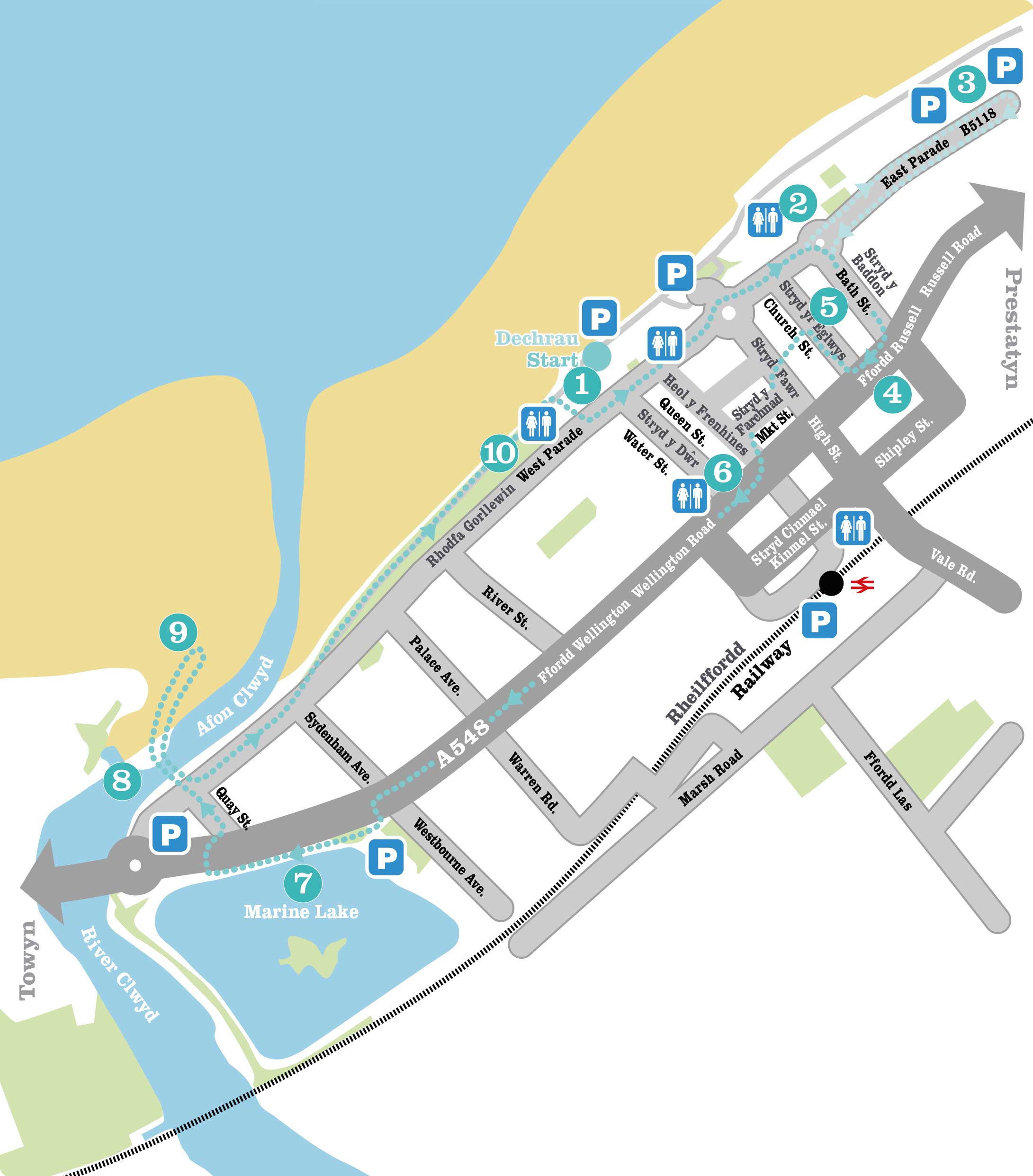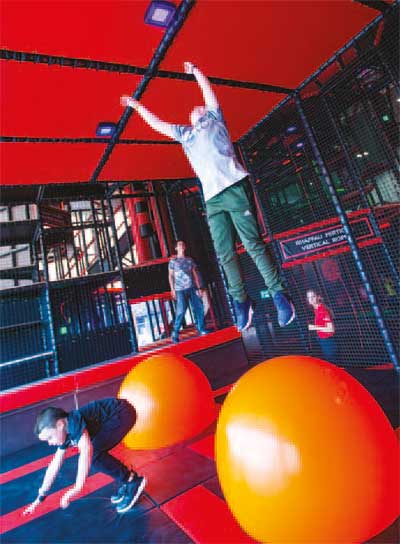 1
SC2
The undisputed centerpiece of Rhyl's seafront is SC2 and its astonishing 1,200 square metres of watery fun with indoor and outdoor flume rides, beach-style paddling, feature slides, an outside splash pad perfect for younger children and café terraces for the grown-ups. It also features the very first high-energy TAGactive indoor play arena in Wales. SC2 is designed to be the complete holiday experience, whether you're a thrill-seeker, a paddler or you just want to put your feet up and relax.
www.sc2rhyl.co.uk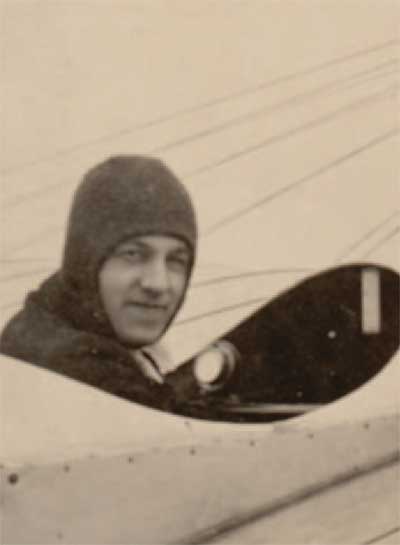 2
Aviator Vivian
Hewitt
From the Skytower, turn left to follow West Parade.
The outdoor events arena on your left is one of the best vantage points for the spectacular Rhyl Air Show, when 140,000 people pack the promenade over the August Bank Holiday weekend. But the town's place in aviation history stretches back much further. On 21st April 1912 aviator Vivian Hewitt took off from Rhyl beach in a Bleriot monoplane built of wood, wire and canvas. After refuelling at Holyhead he landed safely in Dublin as the first man to fly across the Irish Sea. His achievement would surely be more famous if it hadn't come shortly after the sinking of the Titanic.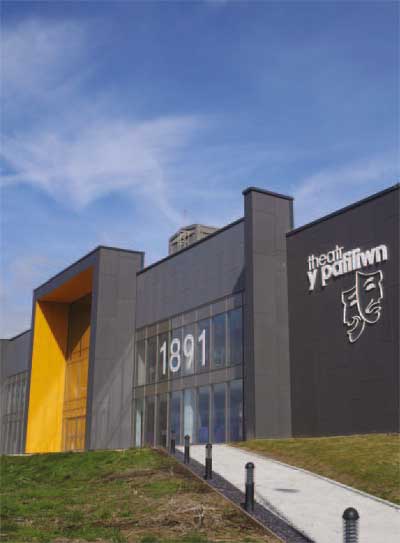 3
Pavilion Theatre
Continue along East Parade for an optional short detour to the Pavilion Theatre. Look out for Pro Kitesurfing on your left, offering windswept adventure and a beachside café.
The 1,000-seat Pavilion Theatre hosts an audience-pleasing mix of concerts, comedy nights and West End shows. Upstairs is the stylish 1891 restaurant and bar with its locally sourced food and spectacular sea views, brilliant for a pre-show meal. Returning along East Parade check out the 19th-century stone lookout tower, built as a semaphore signalling station for paddle steamers.
www.rhylpavilion.co.uk
www.1891rhyl.com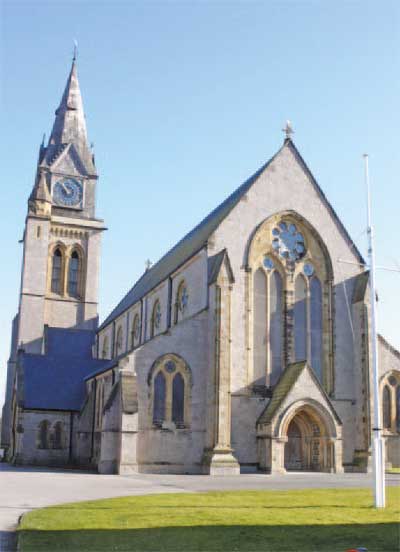 4
Churches of
Holy Trinity and
St Thomas
Turn left into Bath Street with its fine Victorian buildings.
Rhyl was just a village until the arrival of the railway in 1848. Suddenly it was besieged by tourists eager for adventure – and a building boom began. St Thomas's Church, a soaring piece of High Victorian Gothic by architect George Gilbert Scott, was finished in 1867. Next door is the much smaller Church of Holy Trinity, built in 1835 but outgrown within a generation by the rapidly expanding holiday resort. Despite the looming presence of its big brother, it remained the parish church.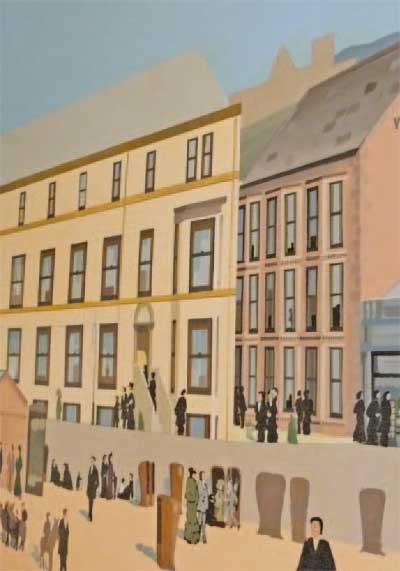 5
Rhyl Museum
The museum is inside Rhyl Library on your right.
Upstairs in the museum you can stroll down an imaginary Edwardian pier and peek into kiosks filled with all sorts of weird and wonderful objects such as lifebelts, bath chairs and swimming costumes from the heyday of the resort. It's a great place to discover more about the personalities who shaped Rhyl and nearby Prestatyn, from Roman bathers to early cinema pioneers. And it's completely free.
Enter White Rose Shopping Centre. Turn left and then right to emerge in the High Street.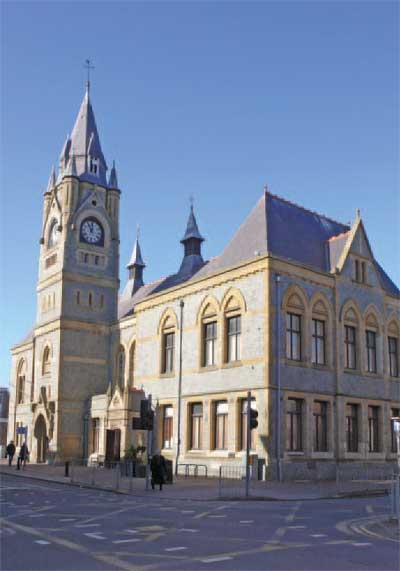 6
Town Hall
Head down High Street, before turning right into Market Street.
The Town Hall opposite was opened with a street parade and flourish of trumpets in 1876 – and quite right too. It's a splendid example of confident civic architecture in the French Gothic style. Inside were offices for the town clerk and surveyor, a fire station, a soup kitchen, a bank, corn exchange and auctioneer's office. If all this wasn't enough, it was extended in 1907 to fit in a library funded by philanthropist Andrew Carnegie, also responsible for Carnegie Hall in New York. The town's library remained here until 1982.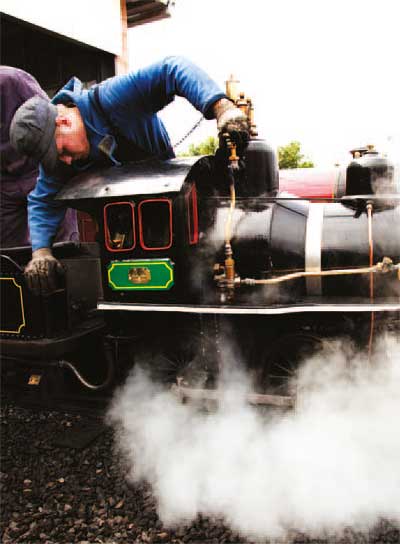 7
Marine Lake
Heading west you'll see the former Church of Saint John on the corner of River Street, built in 1885 for a congregation based at the nearby Winter Gardens.
Rhyl Marine Lake, joined to the sea by a single sluice gate, is the only saltwater lake in North Wales. You can walk a nature and heritage trail all the way round if you like. Or if that sounds a bit too energetic, you could hop on a vintage steam locomotive to ride the oldest miniature railway in Britain. They celebrated their 100th birthday in 2011 by building a Central Station with hands-on museum where you can pretend to drive a train, pull signal levers and ring bells. Who could possibly resist?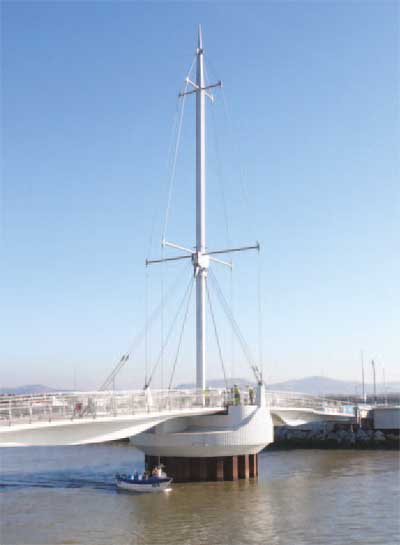 8
Rhyl Harbour
The harbour is more than 700 years old, created as part of a deep-water channel to supply Edward I's castle at Rhuddlan. But things have changed a bit since then. For a start there are new coastal defences, a slipway, boatyard and an extended quay. Not to mention the 50-metre tall mast of Pont y Ddraig, or the dragon's bridge. This iconic structure, which opens and closes like a giant metal flower to allow boats to sail past, doesn't just lead to the new harbour café and bike hire shop. It also carries both National Cycle Route 5 and the Wales Coast Path.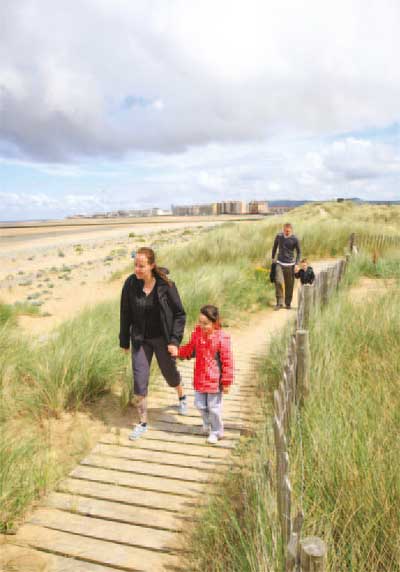 9
Horton's Nose
It's shaped a bit like a nose and it belonged to a chap called Horton. Which is why this nature reserve, one of the last sand dune systems on the North Wales coast, is called Horton's Nose. Take a stroll along the wooden boardwalks for a wonderful view of Rhyl's seafront and the chance to spot wildlife including lizards, skylarks, cormorants and sandwich terns. Incredibly in 1962 this tranquil spot was home to the world's first hovercraft service, joining Rhyl and Wallasey.
Recross the bridge and walk along West Parade, bear left to follow the seafront and head for the tall beacons of the Drift Park.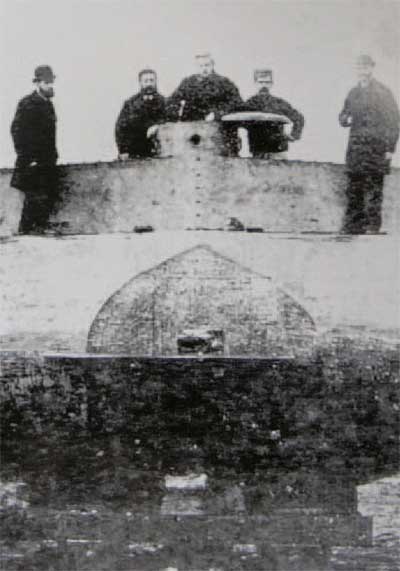 10
Wreck of the
Resurgam
Etched into a wall beside the third beacon is an imaginary scene of bygone Rhyl. Flying high above the town is the plane of Vivian Hewitt (see number 2) while beneath the waves a curious craft is visible. This is the Resurgam, one of the world's earliest powered submarines and brainchild of eccentric clergyman Reverend George Garrett. Built in Birkenhead in 1879, his steam-powered submersible sank while under tow shortly after leaving Rhyl for Portsmouth. The wreck was discovered five miles offshore by a local diver in 1995. But so far the craft's name, Latin for "I shall rise again", has not proved prophetic.