February in North East Wales
February is the shortest month of the year, but we can still cram in some small adventures. Whether its a walk to spot the emerging snowdrops or a bracing beach walk to blow away the cobwebs. One things for sure Spring is on it's way and brighter days ahead.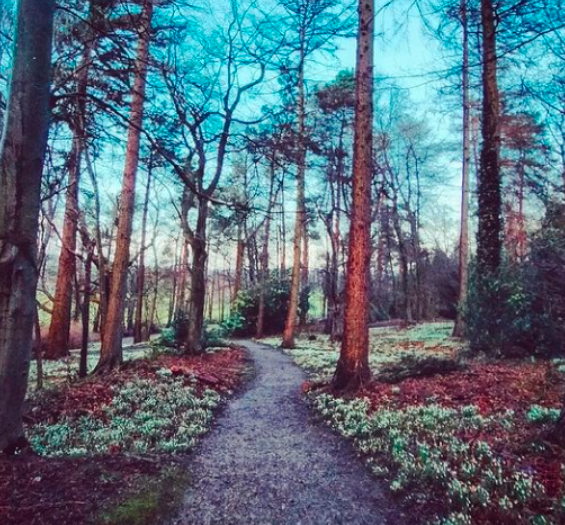 It's also Valentines Day and even though in Wales we have our own lover's day in January on Santes Dwynwen day we are also happy to spread the love in February too. Why not treat your loved ones to a special meal? There's a wealth of hospitality businesses right on your own doorstep, ready to provide the perfect venue to enjoy the company of your partner to celebrate the romance in your life.
One popular Prestatyn venue is The Hideaway opened for the first time during December 2018 and has fast established a reputation for providing a full local flavour of tapas from the heart of Spain.
Nestled on the High Street, the bar takes pride in serving their culinary delights with a twist of Spanish flavour to local customers.
The Prestatyn establishment is supporting the #LoveLiveLocal campaign being run by Denbighshire County Council, with the aim of encouraging more people to support local businesses and shop local.
Hayley Roberts of Hideaway explained the cuisine awaiting local couples dropping in is all put together with a dash of European experience and big flavour of friendliness.
She said: "We are a tapas bar with a Spanish chef so serving traditional Spanish cuisine and handmade freshly shaken cocktails alongside our main drinks menu.
"Our amazing chef knows how to cook tapas really well, we are small and friendly and make a great range of delicious cocktails and we also have live music every week.
As couples gear up to celebrate Valentine's Day, Hayley added that the bustle of Prestatyn has become a great place to ring in romance.
"Prestatyn high street has become a vibrant hub for nights out with lots of bars. We here are offering Galentines Brunch, couples bottomless Prosecco brunch and live music every Friday evening. You can choose what kind of night you want from chilled out bars to lively bars and even a nightclub open till 2am."
February does generally only tend to mean one thing for Welsh people who have another love, that of rugby. It's the start of the Six Nations Rugby Championship and if they can't make it to the game, you are likely to walk into a pub during a game which will be filled with warmth and passionate Welsh support. Yes we did win the championship last year but we all know it will be a difficult tournament for us this year with so many changes and injuries but it doesn't stop us cheering along with any hard fought tries. See you in the pub on Saturday then?