New podcast exploring the history of Castell Dinas Brân launched
A new audio storyscape has been created by Sarah Baylis and produced by Sally Harrison entitled – 'Capturing the Castle: A Journey Through Time.'
The podcast takes listeners on an audio-guided walk with Sarah, from Llangollen Bridge up to the summit of Castell Dinas Brân, walking in the company of the many 'ghosts' who've made the same journey over the last 200 years.
Their words – extracts from letters, travel journals, newspapers, poetry and song – are voiced by local people who responded to a call out for contributors to read the accounts of the historical characters. Members of the community also feature, providing a modern perspective of the Castell from both locals and visitors. The recording also features traditional harp music performed by Tom Parry, and the Victorian folk ballad 'Jenny Jones' sung by Jennie Coates.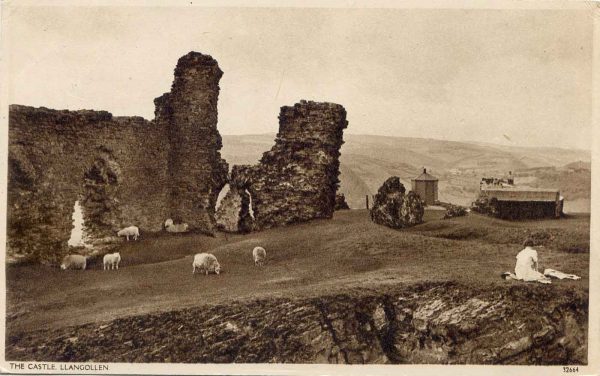 Postcard depicting Dinas Brân Castle, Llangollen, including the camera obscura and tearoom. Courtesy of Llangollen Museum
Layered over time, these varied voices capture the history of the Castell – telling its story from different perspectives, and providing a changing commentary on the Picturesque landscape and the growth of tourism to the Dee Valley up to the present day.
The 48-minute-long recording was recently featured at the exciting Dyffyn Dyfrdwy | Dee Valley exhibition at the Dory Gallery in Llangollen, where it played on repeat in a small nook of the gallery, accompanied by historical postcards of the area. Following the exhibition, it has been made available as a podcast on Soundcloud and on the Clwydian Range and Dee Valley AONB website.
You can now listen to the podcast here:. It is also being featured at an ongoing exhibition in Llangollen Museum.
The audio histories project has been commissioned by the Our Picturesque Landscape project, funded by the National Lottery Heritage Fund.