Shopping in North East Wales this Christmas
We knew that Winter had well and truly arrived with the severe weather and distruptions of Storm Arwen and Barra. However, with Christmas fast approaching we still have time to #lovelivelocal and support our local businesses. We've been interviewing some of the local businesses in Denbighshire, here's what two of them had to say.
Jacqui Bell set up Rhuddlan's The Little Flowermonger in October 2019 and focuses on providing great customer experience as well as being sustainable, stocking mainly British flowers and using biodegradable packaging.
The Little Flowermonger also sells bespoke hand-made Christmas door wreaths and indoor floral decorations which can give your home a natural and stylish festive feel.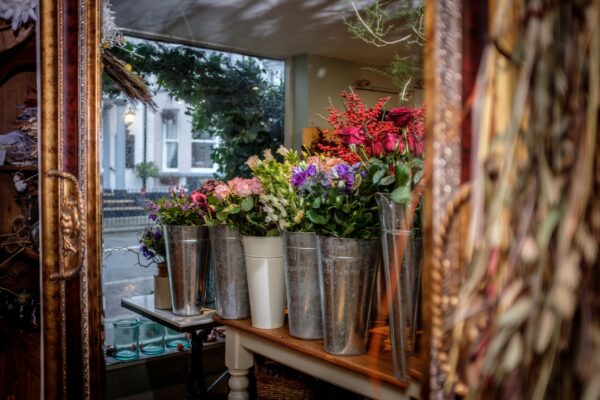 Jacqui, a former pupil at Howell's School in Denbigh, said: "I sell fresh and dried flowers and I try to buy British grown flowers and foliage when possible and use the shop as a platform to showcase the wonderful stock grown in the country. Our stock is cut and couriered to me directly from the growers within the space of 24 hours.
"We also sell a wide range of recycled glass vases, hand-made candles and other gift wear from supplies that are in line with the sustainable ethos of the Little Flowermonger."
Jacqui moved to London to train to be a florist and then worked with celebrity florists designing large scale events before opening her own shop, providing flowers for a number of film productions including Spiderman and Batman in the early 2000s, as well as a host of BBC dramas and events for book launches, back stage concerts, Hello magazine and Capital Radio.
Her bespoke Christmas door wreaths were used by a number of hotels in London as part of their festive decorations.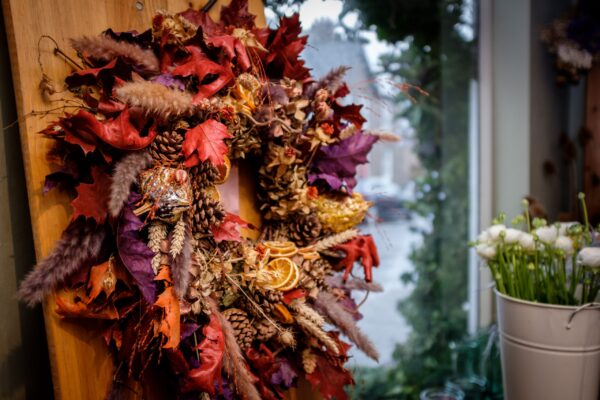 After moving to North Wales, Jacqui opened the Little Flowermonger and is now supporting the #LoveLiveLocal campaign being run by Denbighshire County Council, with the aim of encouraging more people to support local businesses and shop local this winter.
She said: "I think there are some great businesses to be found on our doorstep. I believe we should be using our local shops, it's a lot more personal compared to the convenience of clicking on a link.
"Rhuddlan is a fantastic village and there are lots of independent traders here who provide brilliant products and great customer service. As a customer, I feel we want to feel good about spending money. Shopping should be a pleasant experience that no computer can reproduce, it's not often a computer asks how is your day is going or offers you a cup of tea and a chat."
Jacqui attends flower markets herself to buy stock, removing the need for delivery vans and lorries.
She said: "The whole of my business is about trying to be as sustainable as possible, otherwise there was no point in opening as another flower shop selling the same, when the customer can go online and order and get a 'paint by number' bouquet with lots of plastic accessories.
"I keep my wrapping very simple, it's all biodegradable, even my flower foods are in compostable sachets. I repurpose as much as possible and research daily about new ideas to constantly improve."
Whilst on Back Row, DenbighY Tŷ Gwyrdd, established June 2020 and opened during June 2021, is inspiring a new level of eco responsibility amongst the local community.
The Community Hub houses an eco re-fill shop on the ground floor, with additional studio space on the first and second floors.
Marguerite Pearce, Y Tŷ Gwyrdd Director, said: "We sell groceries, household and gardening re-fill products, locally sourced where available. We support and deliver green-themed and mental health & well-being projects, collaboratively with local artists, other community enterprises, and public and private organisations.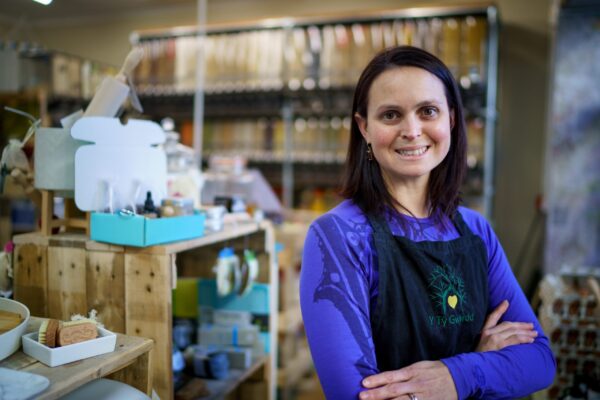 "We take the hard work out of eco-conscious shopping. We offer a diverse range of affordable basic household items that help reduce packaging and food waste and collectively reduce our impact on the environment. We listen and respond to our customers to provide products they want, from local suppliers and producers, which are environmentally friendly, and closed loop (reuse rather than recycle)."
The Denbigh establishment is supporting the #LoveLiveLocal campaign being run by Denbighshire County Council, with the aim of encouraging more people to support local businesses and shop local this winter.
Y Tŷ Gwyrdd holds a proud motto of 'inspiring change to create a sustainable future'.
Marguerite added: "We follow a 'mending not ending' ethos of appreciating and valuing everything. We try to be creative, imaginative, and resourceful in all that we do, to first and foremost reduce unnecessary waste and consumption (buy what you need), reuse (refill containers, buy second hand, donate unwanted items, repair broken items), and recycle as a last resort.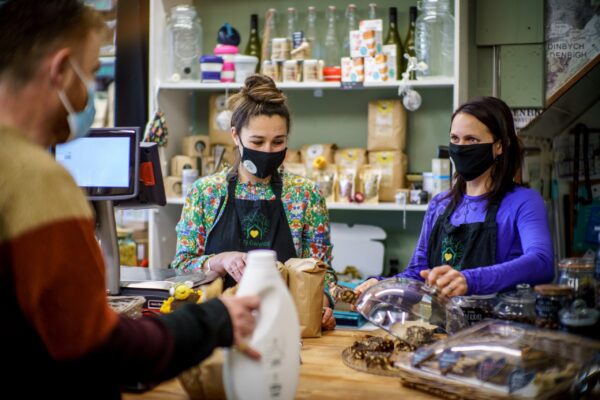 The hub is registered for some TerraCycle schemes, and sign-posts customers to drop off locations for other local TerraCycle schemes.
Marguerite explained: "All our liquid refill suppliers offer a closed-loop system where they take back the container, clean and refill them. We try to source local and UK-wide to help reduce our carbon footprint. We have a renewal energy supplier.
The input from the local community the hub serves is vitally important to the present and future of the enterprise."
Marguerite said: "We engage with the community to understand and support the initiatives and activities that are happening locally, to listen to ideas and concerns, and identify what people would like to see happen in future.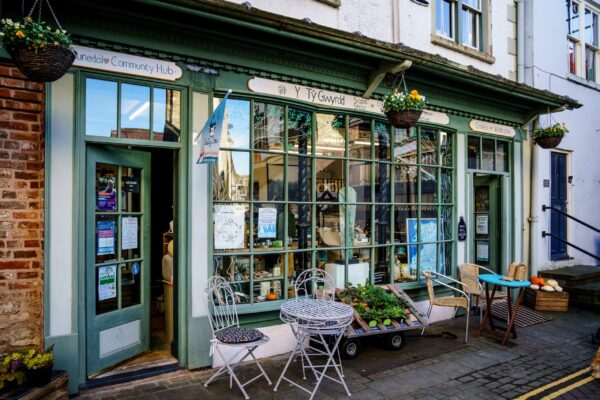 "As a community benefit society, we are owned and run by the community. We invite the local community to be actively involved in Y Tŷ Gwyrdd. We believe to be sustainable the hub and its activities should be guided and shaped by the people who live and work here."
Y Tŷ Gwyrdd held their first share offer in June and welcomed on board 50 shareholders. The hub is also working with reSource CIC and Drosi Bikes CIC on a collaborative project to offer quality volunteer opportunities.
Future plans for the hub include developing a repair workshop in Denbigh, delivering a calendar of events working in partnership with local individuals and organisations, and continuing their search to acquire community-owned wheelchair and pram friendly premises, with changing places and unisex baby change facilities.
And their message to those thinking about shopping locally in the heart of their communities?
Marguerite added: "Support local, help the high street thrive, keep our creative, friendly community spirit alive."
Shoppers can help by sharing great experiences and products on social media to let people know you have shopped local this winter and encourage others to #LoveLiveLocal too.
For further information about the campaign, follow Denbighshire County Council's Facebook and Twitter accounts, as well as the #CaruBusnesauLleol / #LoveLiveLocal Facebook page.