With Corwen's new train station opening in June we went to see what else it has to offer.
Corwen  is a small attractive market town which sits at the foot of the Berwyn Mountains at the Western end of the Dee Valley which is part of the Clwydian Range & Dee Valley Area of Outstanding Natural Beauty and sits by the River Dee. Corwen occupies a strategic spot in North Wales. History has shown Corwen has been occupied by the Roman's, visited in turn by sixth century saints, invading and defending armies, cattle drovers and Victorian coach passengers. So this "Crossroads to Wales" has had plenty of practice in welcoming travellers. Nowadays Corwen has a lot to offer for the more discerning visitor, its much quieter than its neighbouring Llangollen. If you prefer a more tranquil location with less of the hustle and bustle of our more well known towns you will love Corwen.  With two free car parks – one by the old station and the other behind Canolfan Fi and lots of space in Green Lane Carpark you won't feel stressed out looking for a space. Corwen Bus Interchange ensures Corwen continues to be an important hub for travelling Wales sustainably.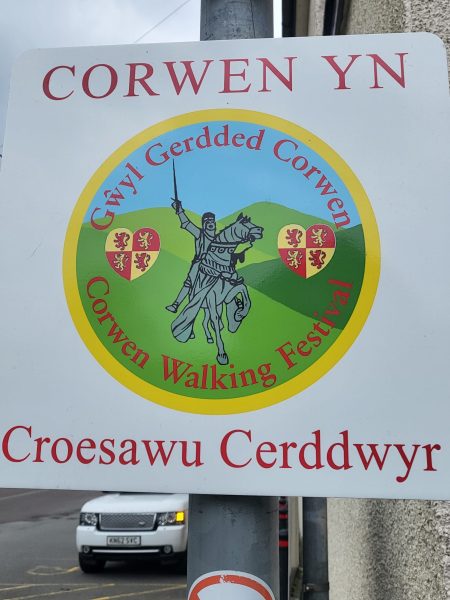 We decided to park behind Canolfan Fi and walked into the town, facing us was an interesting  historical building called Corwen Manor.  It turns out it used to be a workhouse for the poor and debt ridden community built back in the  1840. In juxtaposition to its inhabitants it really is a grand building built in a design of a  cross.  Now a craft and fishing tackle shop and tearoom. You can get a birds eye view if you start the ascent to Pen y Pigyn viewpoint.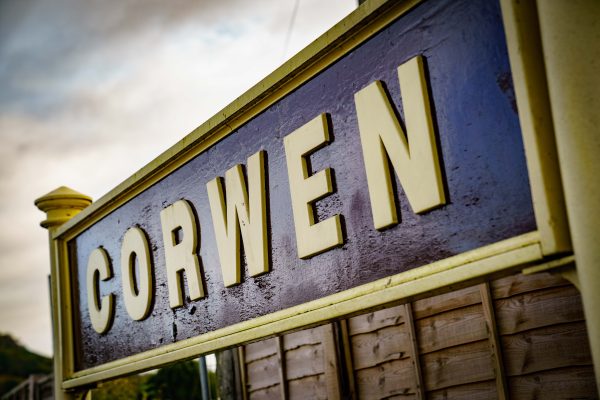 To the right opposite Corwen Manor, in an old chapel lives Corwen Museum, its manned  by a group of enthusiastic volunteers. There is an interesting exhibition about the old Quarry in Glyndyfrdwy, as well as the train and the local hero of indeed Wales, Owain Glyndŵr, with a full size mannequin dressed in his impressive coat of arms.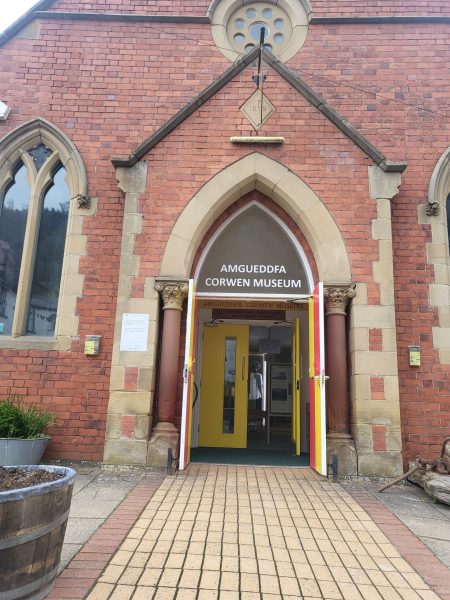 Corwen Museum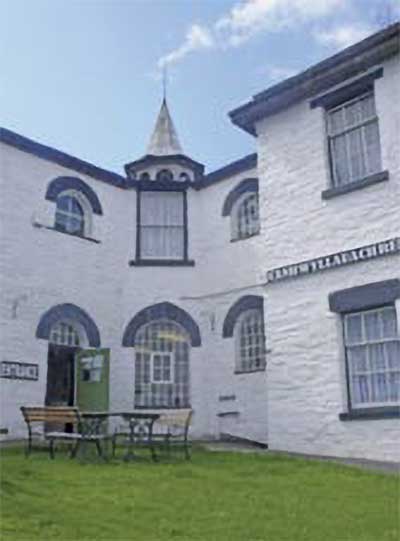 Corwen Manor
If you like a mooch around shops, Corwen has an interesting selection, as well as groceries,  it has a florist and butchers and has a lovely Gift shop Pethau Tlws specialising in Welsh products.
It also a bit of a haven for lovers of thrift, with a couple of vintage shops on the square and an antique shop but if you delve a little deeper you will find Vintage Homes Styles Emporium  based over two floors a huge space filled with treasures run by Carol Styles. The stock is forever changing and  it is full of interesting bric and brac and has the feeling of a French market about it inside. You can even have a coffee while you browse around and dogs are welcome.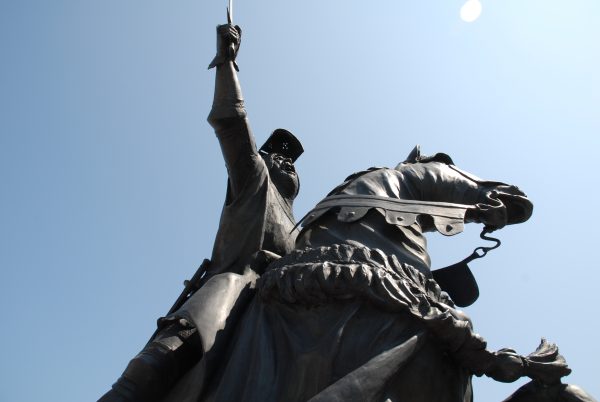 Statue of Owain Glyndŵr
So did we already mention Owain Glyndŵr? Corwen as I'm sure it is, should be is very proud to be the hometown of the  Welsh Prince of Wales who rebelled against the English landowners who ruled over Wales back in the 14th century. He is a symbol of Welsh independence and Corwen has a magnificent statue of Owain  on his horse  with his sword raised in a rebel yell on the town square.  Local folklore says that Owain threw his sword in a fit of frustration from Pen y Pigyn a highpoint overlooking  the town.  If you look closely at the door at the back of the Church St Mael and Sullien you will see the indent of the sword.  Whilst in the churchyard you may come across the weird stones either side of the path these are meant to be kneeling stones for ladies in their crinolines back in the day and a rather poetic headstone for an engine driver.
Which leads us nicely on the new development of the Corwen Station. Corwen has been waiting for the re-arrival of the train for a long time. Finally, after many years of hard work by volunteers and the successful completion of the station canopy Levelling Up Fund project, the new station is ready to welcome visitors. Four days of special celebrations will mark the fanfare official opening of the new Corwen station during the first week of June. A highlight will be the arrival of a special steam train carrying coachloads of VIPs along the line from Carrog to see the formal opening ceremony on Friday June 2. Saturday and Sunday will welcome the public with a public gala event, an intensive timetable of services hauled by steam, diesel and railcars over three days, special exhibitions and the unveiling of a special commemorative model. The opening will bring passenger rail services back into the heart of Corwen after a break of many decades. More can be found out about the planned celebrations here.
Image of the new station at Corwen by Terry Pickthall
If you wanted to stretch your legs and get a better view of the town which already has 'Walkers are Welcome' status,  why not walk the dagger trail, up to an area called  Sexton where you can cross the stream over ancient stepping stones or  where you can carry on up to Pen Y Pigyn, which gives a great view of Corwen and notice the large objects  left by the giant on his way up.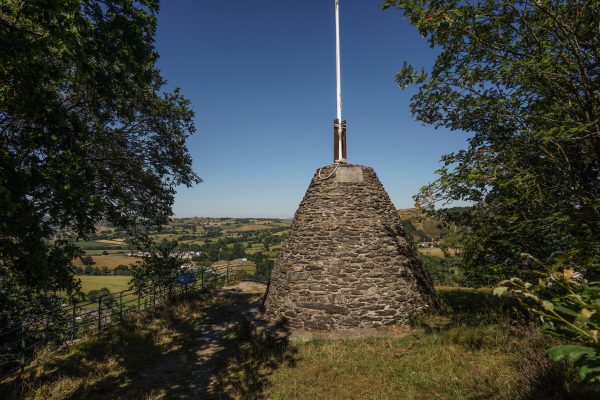 Pen y Pigyn
If you were feeling very energetic there is a marvellous walk  known as Liberty Hall (an old hunting lodge ruin) which take you up and over the moorland and back into Cynwyd via forests and a waterfall. You can then walk back to Corwen via the old railway line,  now a picturesque walkway adjacent to the magnificent River Dee. You can download the map and trail here.
Opposite Pen Pigyn on the other side of the Dee  is Caer Drewyn and ancient Iron age Hillfort. Allegedly also used by the Romans to grow vines hence the name ' Drewyn'  which loosely translated means Wine Town. An excellent place to view the stars on a dark night and once a year during the August Perseid meteor shower  when you can join the Countryside rangers who organise  guided walks and offer rubber matts for you to lie on to view our award winning dark skies and even supply hot chocolate and cake,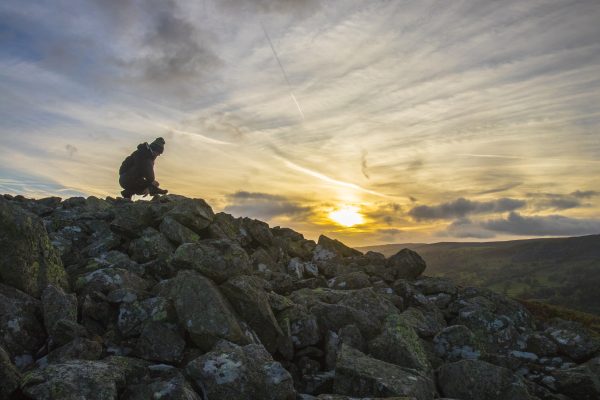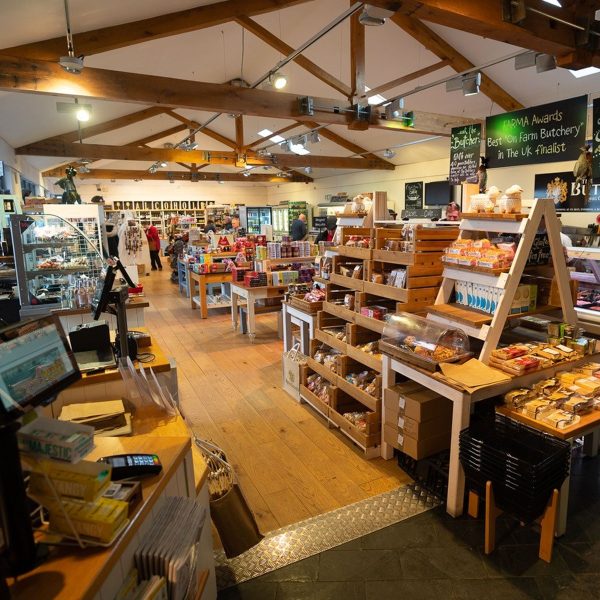 Rug organic shop
For those of you would enjoy some heritage of a religious leaning just on the outskirts of Corwen are two very fine examples now run by Cadw.  Rhug Capel and Llangar Church, both very different in style and presence but both equally wonderful. So if you are looking for a visit with a sense of history and and a desire to immerse yourself in one of Britain's loveliest protected landscapes, at a slower pace why not give Corwen a visit.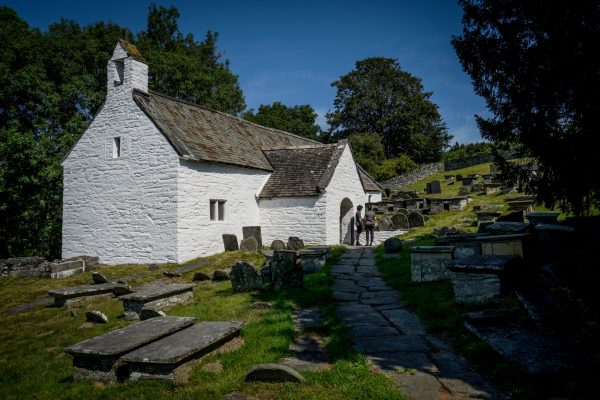 Llangar church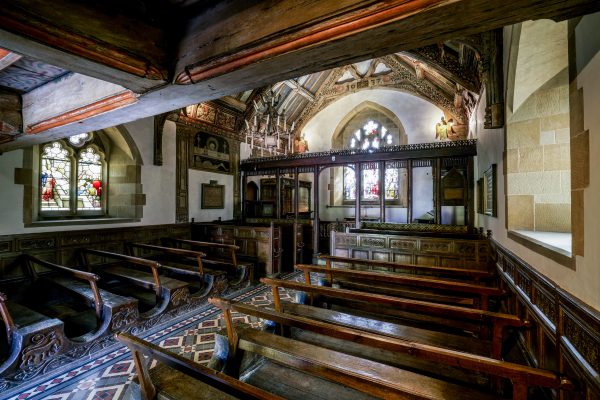 Interior of Rug Chapel