Writer and former National Trust chairman Simon Jenkins describes Ruthin as "the most charming small town in Wales". This circular town trail will help you understand why.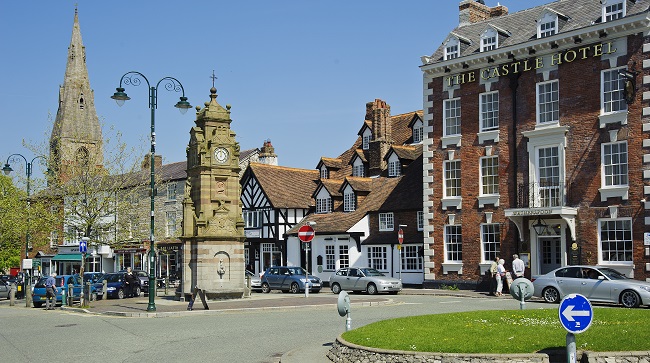 Distance: 1.5 miles / 2.4 km
Difficulty: Some quite steep uphill sections
Walking time: 90 minutes
Start point: Cae Ddôl car park LL15 1HN
Public transport: Traveline Cymru 0800 464 0000,
National Rail Enquiries 03457 484950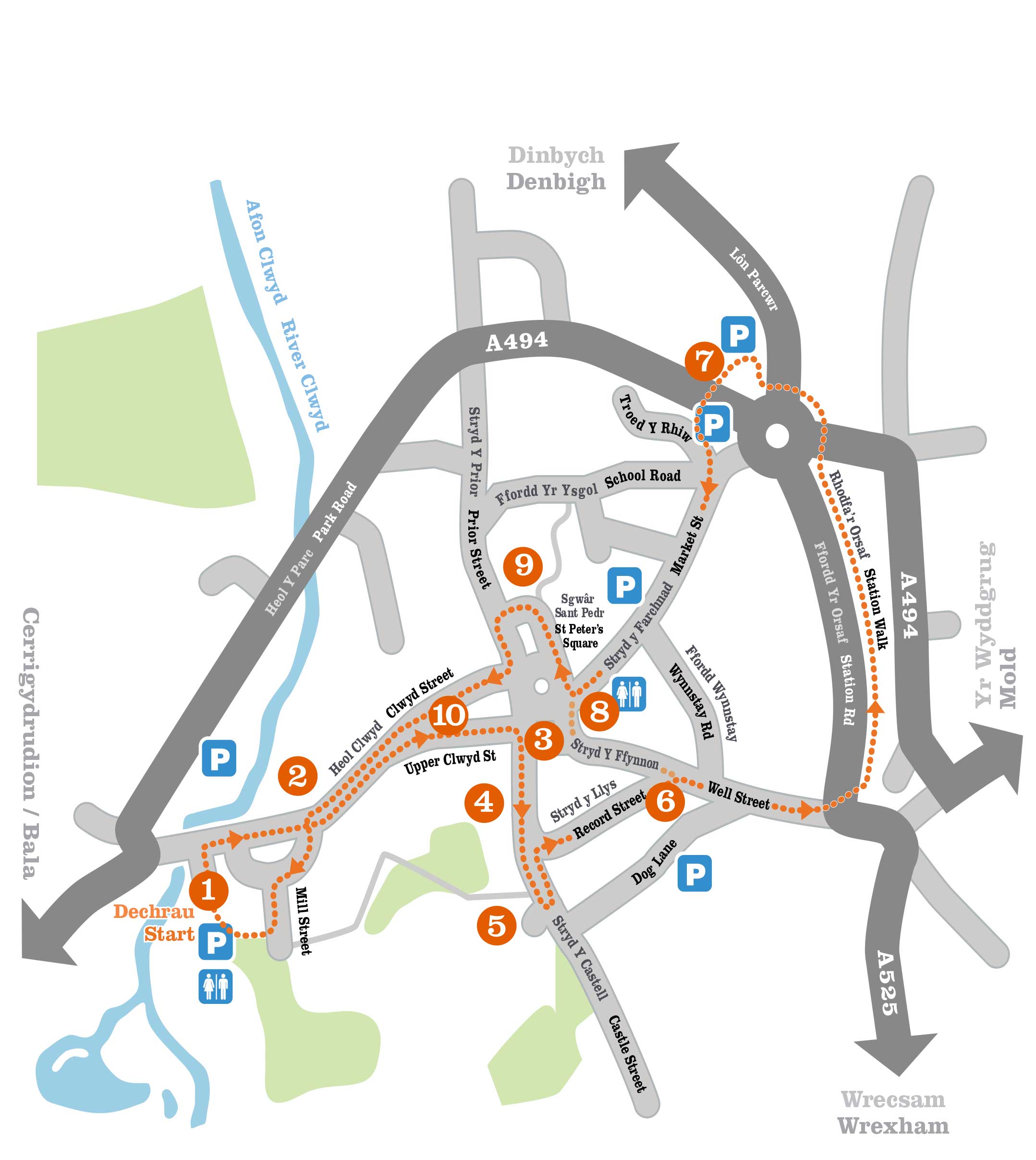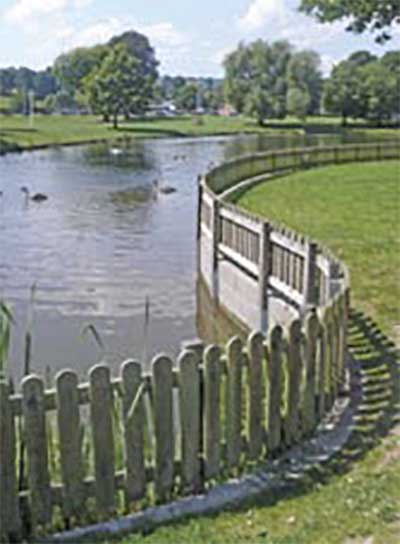 1
Cae Ddôl
No doubt you're itching to start this trail around one of Wales's most beautiful and interesting small towns. But don't rush off just yet. Cae Ddôl, the lovely little park behind you, is well worth a look. Stroll beside the River Clwyd as it winds its way through the natural water
meadows. Watch the ducks and swans on the lake. And if you have kids in tow, take them to the playground or the skate park.
Then, when you're ready, enter Clwyd Street from the car park and turn right.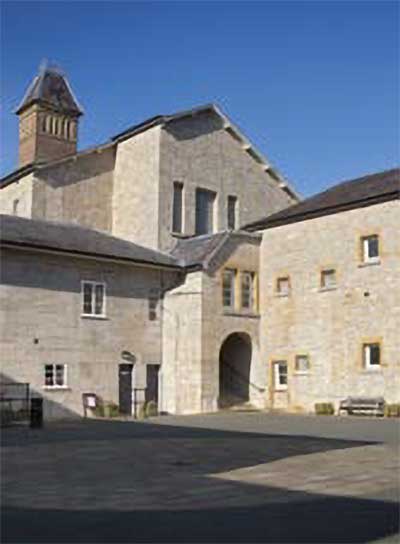 2
Ruthin Gaol
A "House of Correction", where vagabonds and the unemployed were put to work, has stood at the bottom of Clwyd Street since 1654. The forbidding Pentonville-style wing at the back of the courtyard, the only one in Britain open to the public, was built in 1868. You can explore its creepy nooks and crannies, find out what the prisoners ate (gruel, gruel and more gruel) and shudder at the punishments they suffered. You can even take a peek in the condemned man's cell, if you're brave enough.
Fork right into Upper Clwyd Street and get ready for a short, sharp climb.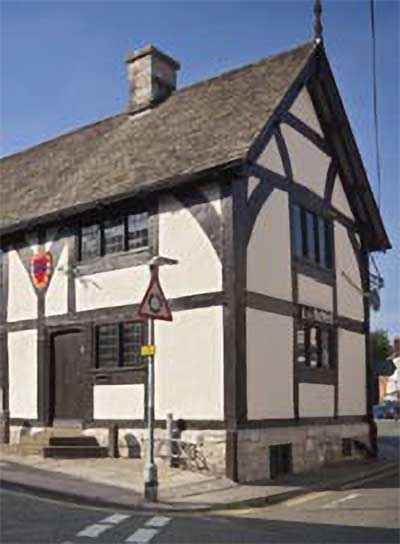 3
The Old
Courthouse
Ahead of you is the magnificent half-timbered Old Courthouse, built about 1421 to replace a building burned down by Welsh freedom fighter Owain Glyndŵr. The gibbet on the western gable hasn't been used in anger since a Franciscan priest was hanged in 1674.
Outside nearby Barclays Bank is a huge stone called Maen Huail, upon which King Arthur, clearly not a man to get on the wrong side of, is said to have beheaded a love rival.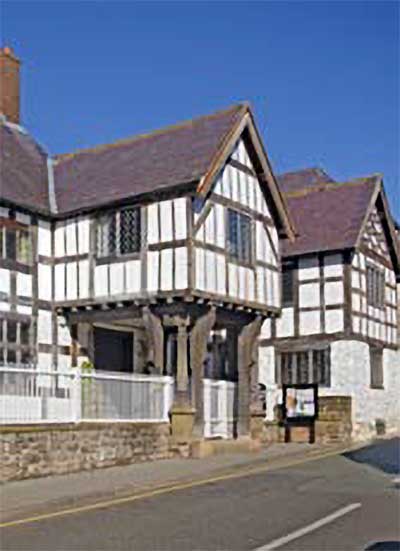 4
Nantclwyd y Dre
Castle Street is packed with splendid period houses. The jewel in the crown is Nantclwyd y Dre, the oldest timbered town house in Wales. From about 1435, it was continually occupied for more than five centuries – the iconic front porch was added by Eubule Thelwell in 1693. Seven superbly restored rooms together tell the story of Nantclwyd's "Seven Ages" and the people who lived through them. Don't miss a serene stroll around the fully restored Lord's Garden, first mentioned in 1282 and once an orchard and kitchen garden for Ruthin Castle next door.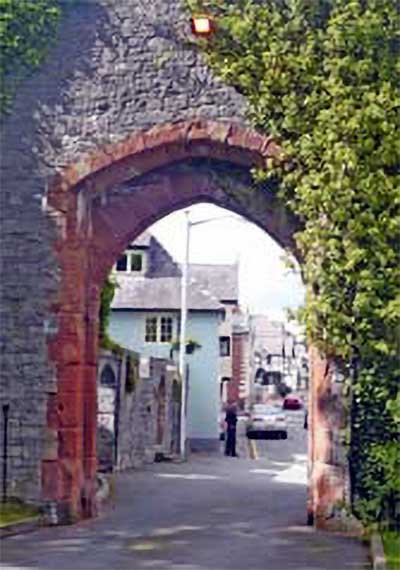 5
Ruthin Castle
Gateway
Ruthin Castle isn't quite what it seems. The immense red sandstone building is only pretending to be medieval. It was built in 1826 and extended in 1848-52 by the same architect, Henry Clutton, who designed this gateway and lodge in the Picturesque Gothic style. But something much older was underneath. The original castle dates all the way back to 1277. Walk through the gateway into the grounds of what is now a luxury hotel (they won't mind) and turn right to explore the evocative ruins.
Retrace your steps part way down Castle Street and turn right into Record Street.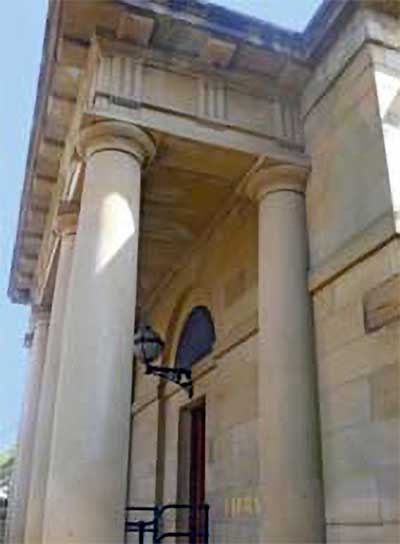 6
Ruthin Library
Don't be fooled by this building's current blameless purpose as a library. This is the third building on our tour associated with crime and punishment. Built in 1785 to house records of the Court of Great Assize, it became a courthouse in its own right and the imposing portico with Doric columns was added in the 1860s. The court last sat here in 1974 but it continued as a Magistrates Court until 1986. Nowadays the stiffest sentence handed down is a fine for overdue library books.
Turn right at the end of Record Street – or left (past the shop where the Welsh national anthem was first printed in 1860) to shorten the trail.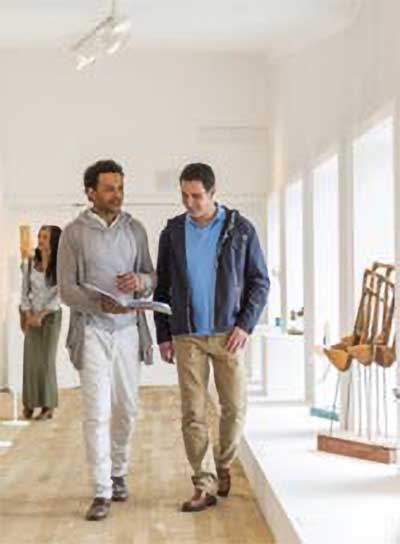 7
Ruthin Craft
Centre
At the end of Well Street, cross over to the row of red-brick railway cottages to follow Station Walk. Cross the roundabout into Lôn Parcwr, turn left into the craft centre car park and enter through the courtyard.
This is the most important applied arts centre in Wales. The cast stone walls and jagged zinc roof echoing the surrounding Clwydian Range are works of art in themselves. Inside are three galleries, makers' studios, a shop and a café plus a busy programme of talks, events and workshops. So if you're inspired by the craft, you can come back and make your own.
www.ruthincraftcentre.org.uk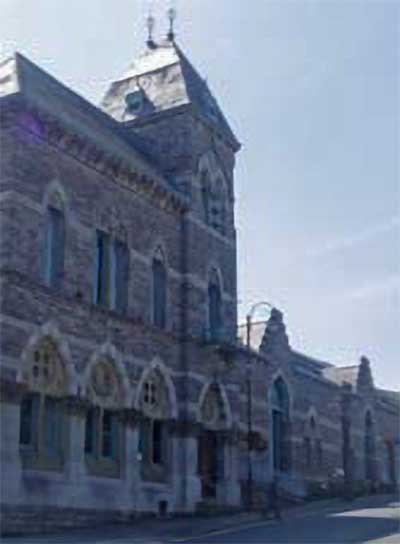 8
Town and
Market Halls
Leave the craft centre through the front door, cross the main road into Troed y Rhiw and turn right into Market Street.
Until 1991 local farmers would pour into town for a livestock market where the Market Street car park stands. Now they meet out of town. But the indoor Market Hall opposite is still open most days selling arts, crafts and local produce including free range eggs, home-produced pork, jams, preserves and cakes. The Market Hall and adjacent Town Hall together make a fine example of a civic building in the High Victorian Gothic style.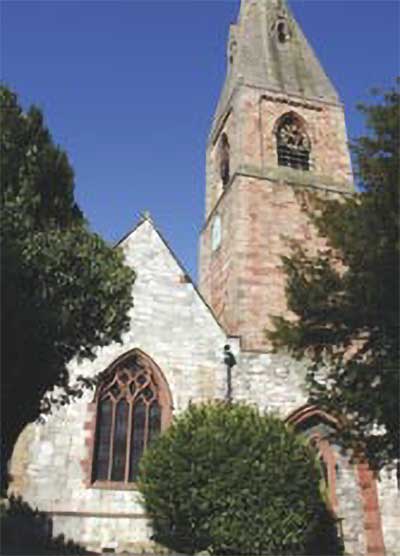 9
St Peter's Church
At St Peter's Square, turn right past the 17th century Myddelton Arms with its dormer windows known as the "Seven Eyes of Ruthin". Go through the superb wrought-iron gates, made by the Davies brothers in 1727, into the churchyard.
St Peter's Church, built in 1310, is one of Denbighshire's characteristic twin-naved churches. The lovely decorated timber roofs were added in the early 16th century but the tall spire, which seems to follow you as you walk around the town, was the result of a Victorian "restoration". In a quiet corner of the church precinct you'll find the almshouses endowed by the well-named Gabriel Goodman in 1590.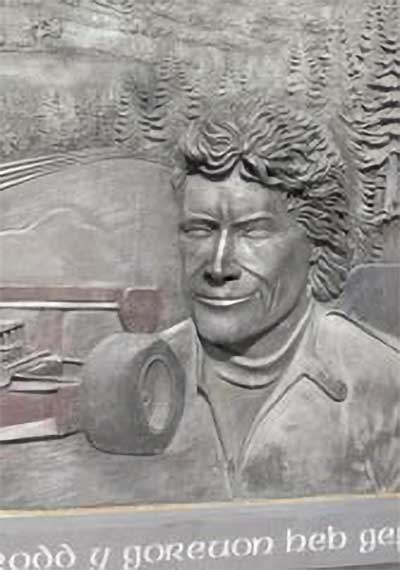 10
Tom Pryce
Memorial
Everybody loves a local boy made good – especially one who never forgets his roots. Thomas Maldwyn Pryce was Ruthin through and through. One of the most talented racing drivers of his generation, 27-year-old Tom was killed when a safety marshal ran in front of his car at the 1977 South African Grand Prix. This magnificent bronze relief by local sculptor Neil Dalrymple was unveiled on 11 June 2009. It would have been Tom's 60th birthday.
Turn left into Mill Street opposite Ruthin Gaol, walk past the 13th century mill and turn right at the bollards to return to Cae Ddôl car park.