The River Runner Dyfrdwy Explorer; T3, Traws Cymru
The T3 is one of the many Welsh-government sponsored long-distance TrawsCymru routes, and runs all the way from Y Bermo (Barmouth) to Wrecsam. Major stops are at Dolgellau and Bala in Gwynedd, Corwen and Llangollen in Sir Ddinbych, and Rhiwabon in Wrecsam. (Check timetables for smaller places served en route.) There are seven services per day Monday to Saturday and four on a Sunday. A TrawsCymru App allows you to plan your journey and check the whereabouts of your bus.
Much of this route, especially through Sir Ddinbych, accompanies Afon Dyfrdwy (The River Dee) which rises on Mynydd Dduallt in Eryri, flows through the middle of Llyn Tegid at Bala, cavorts through Sir Ddinbych, and becomes a silty brown beast of an estuary at Chester.
This is a fabulous route for picking up walking trails such as the Tegid Way (18 miles) from Cynwyd to Bala or the North Berwyn Way (15 miles), which goes south of the river between Llangollen and Corwen. Also between Llangollen and Corwen, both the Dee Valley Way (15 miles) and the Clwydian Way (122 miles) take a route north of the river.
Llandrillo
The B4401 swings slightly from Afon Dyfrdwy here, so Llandrillo is not quite on the river. But the Ceidiog – one of its tributaries, is a prominent feature, tumbling beneath the bridges. To me Llandrillo is quintessential Sir Ddinbych – embodying the mellifluous green landscape of hedgerows, valleys and hills seen from bus windows. The pub is closed, but not Sant Trillo's Church, the Post Office shop and The Berwyn Restaurant. Tractors peep from behind houses and roses ramble around doors.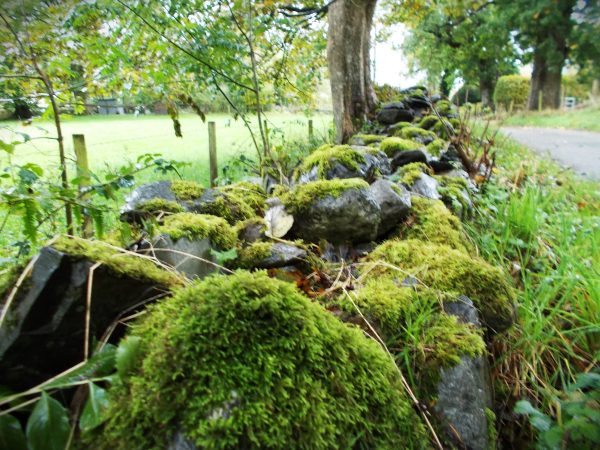 Llandrillo is even lovely in the rain, taking on a gentle luminescent quality beneath the trees. Rain falls sweetly into the Ceidiog. This is where I meet Jeff, out for a wet morning stroll. "Dwi'n gallu cofio plisman yn y pentre" (I can remember a policeman in the village) Jeff tells me. "PC Roberts. He would come down for the sheep-dipping, to make sure everything was going alright." Jeff says the chapels were once so busy and the services so long, that parents would leave their children at home to amuse themselves.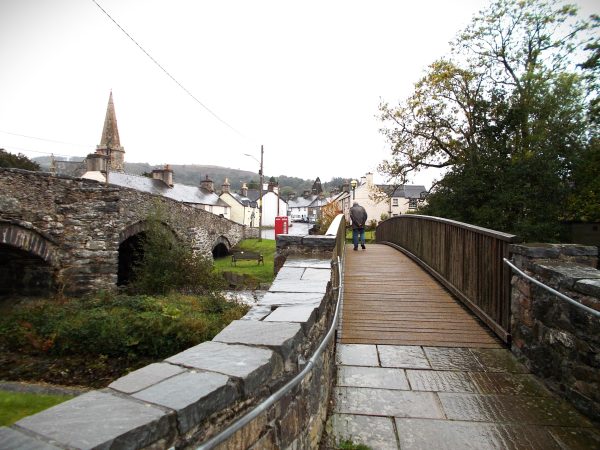 Llandrillo is a great place to start walks from. You can hike to the Bronze Age stone circle at Moel Ty-Uchaf, consisting of 43 kerb stones. You can pick up the Tegid Way and follow it to Cynwyd or Bala. Or you can take a more challenging route into Mynyddoedd Berwynion; to Cadair Bronwen and even over it to the Pistyll Rhaeadr waterfall. (Pistyll Rhaeadr is close to the village of Llanrhaeadr-ym-Mochnant in Powys, and served by the 79 Tanat Valley services from Oswestry.) Or walk to Cadair Bronwen and return by The Wayfarers Way – a challenging 15-mile hike.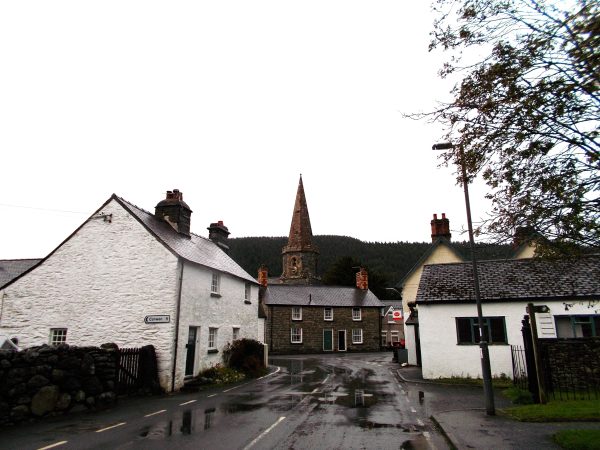 The Welsh Roswell
Legend claims that a UFO landed on 23rd January 1974, in Mynyddoedd Berwynion behind Llandrillo. An MOD report put the incident down to the combination of an earthquake, and a meteor burning up in the atmosphere. Five other reports from southern England that night, described a fireball falling to the north-west horizon. The meteor is believed to have disintegrated over Manchester. The big bang heard by Llandrillo residents – and assumed to be an earth tremor – measured 4.5 on the Richter Scale. But not everyone is satisfied with the MOD's conclusions. Witnesses reported green lights in the sky and a round red light on the hill. "It was a hell of a big bang" Llandrillo resident Richard told me, who was eight at the time. "And the army were there within minutes." Emergency services and police arrived but a convoy of army trucks allegedly closed off the area to them and to local farmers. Nothing was ever reported as being found.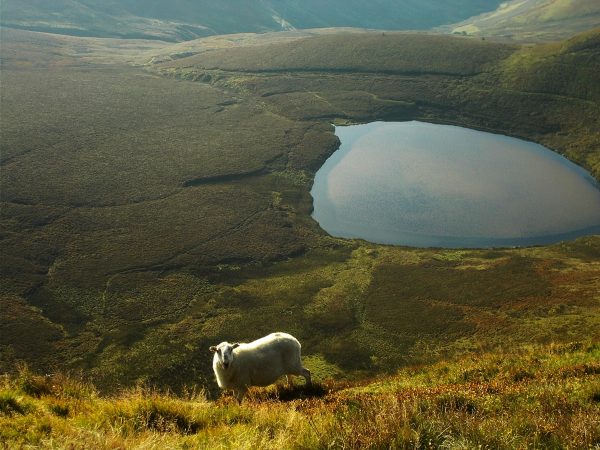 Corwen
'Corwen is a transport hub' says a sign in the excellent Corwen Museum. It refers to a period from the 18th to early 20th centuries, which saw stage and mail coaches, drovers and livestock on their way to English markets, the new railway of 1841, and the omnibus of 1905. And it is true today; the bus station offers TrawsCymru connections in all directions. And Corwen station has just re-opened, allowing you to travel on the Llangollen Railway – formerly the old Great Western Railway line.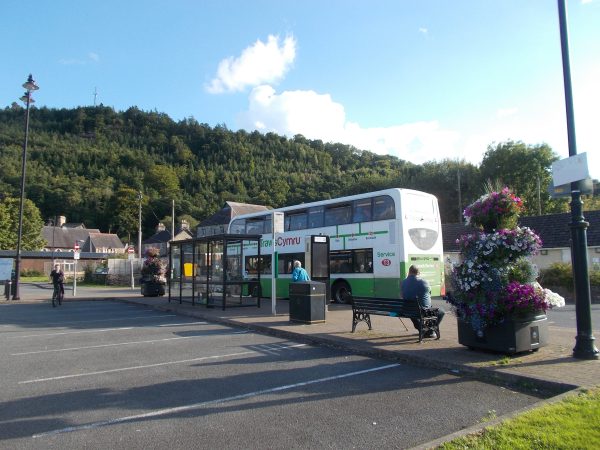 The new station is the talk of the town. Everyone mentions the numerous visitors the railway has brought. "They come in waves" says Cathryn at the Bottletop Bar. "They flood the town then go back out on the train."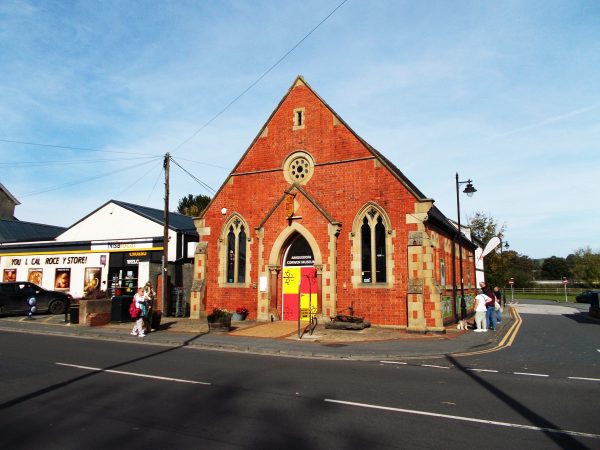 Chris in Yum Yums agrees. "There's a buzz about the town now" she says. Yum Yums is a wonderful place to spend a wet morning. Cheerful music plays and a 'Rock and Roll' sign flashes. I sing along to Shiny Happy People while people tuck into fry-ups. Meanwhile in Caffi Treferwyn, conversation oscillates between English and Cymraeg. Tea is swirled in a pot. They do "dinners like your Mum used to make" says Katherine later, in The Emporium.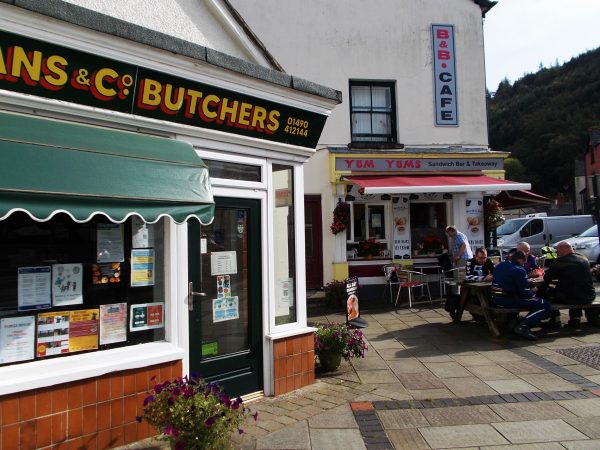 It's a great place for a rummage, The Emporium, where the smell of furniture polish and mustiness mingles, and light filters through skylights in the old corrugated roof. "It used to be a fertiliser factory" says Katherine. Now it is full of old curios; furniture, train sets, teaspoons, teddy bears, bar stools, pewter pepper pots…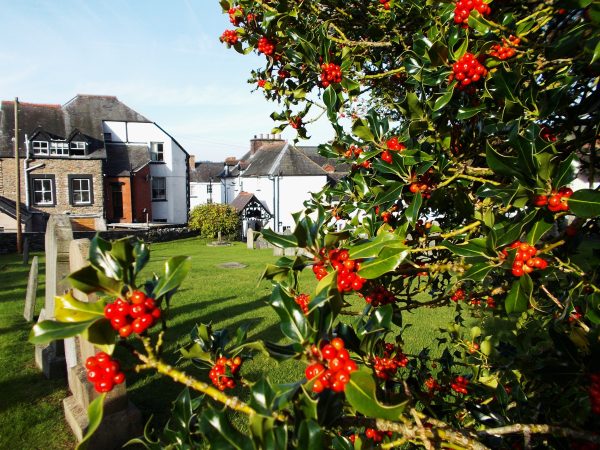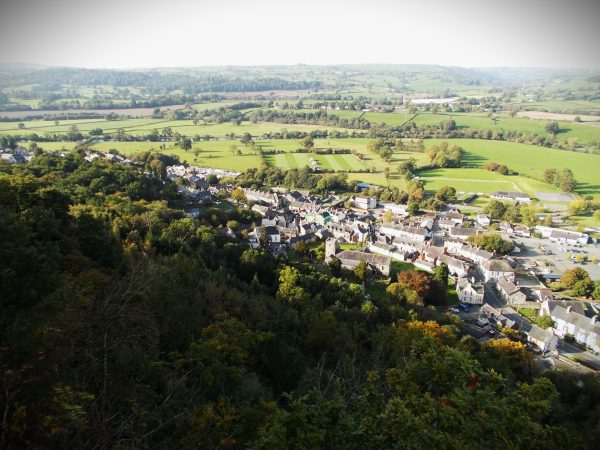 Corwen is good for browsers. Characterful and quirky, it has a timeless quality. Do go for a drink in Gwesty Glyndŵr which is labyrinthine and wonderful, though sadly struggling to survive – the community hope to purchase the hotel to keep it going, but need help. Presided over by John the barman, it is the kind of place where time dissolves. "Dyw e ddim yn weithio yn y bar" he says, explaining that the walls are too thick for wifi. "Have you ever seen a door this crooked?" says Brenda, one of the locals. "We all crowd in here by the fire for the winter, and chuck in £1 for the coal."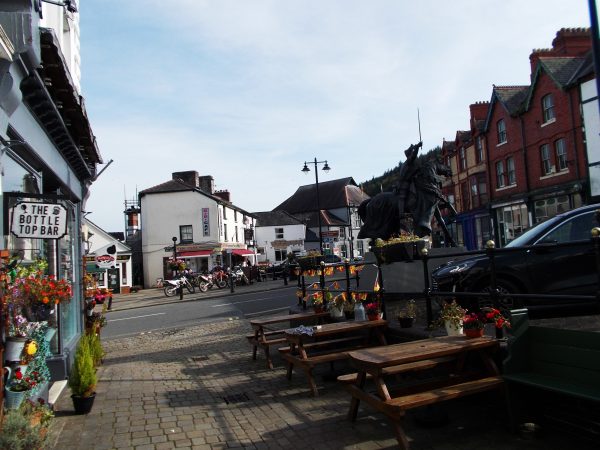 A town trail will lead you around other places of interest such as Corwen Manor which was built as a workhouse in 1840. Intriguing to me, is the Church of St Mael and St Sulien. Within its curvilinear graveyard are 'kneeling stones' for ancient mourners.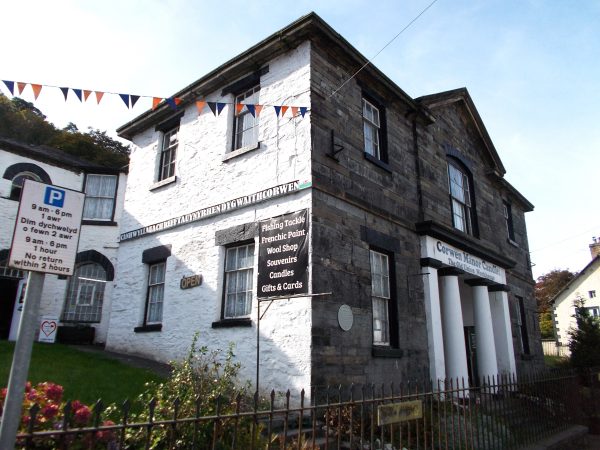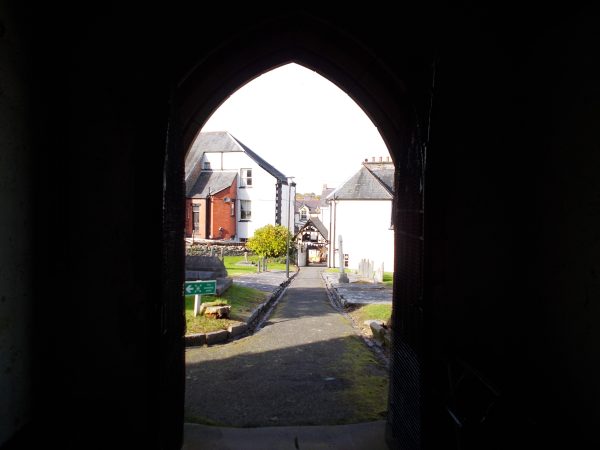 Corwen offers a fascinating blend of industry from the Ifor Williams trailer factory to a bookbinder. It is also where you find the rather wonderful G.R.Evans and Co Butchers and Delicatessan, which sells gifts such as woollen sheep footstools and coloured fleeces, as well as fresh and cured meats and groceries. Split peas, juices, fruit, veg and salt, jostle for space on the shelves.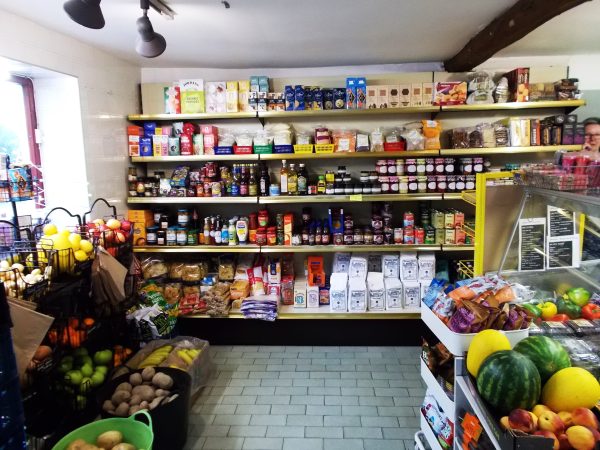 In Corwen you are spoilt for walks. From the churchyard, head uphill and into Coed Pen-y-pigyn. Birch, sessile and red oak provide colour and shade, and an understorey of scrub adds texture to this AONB woodland.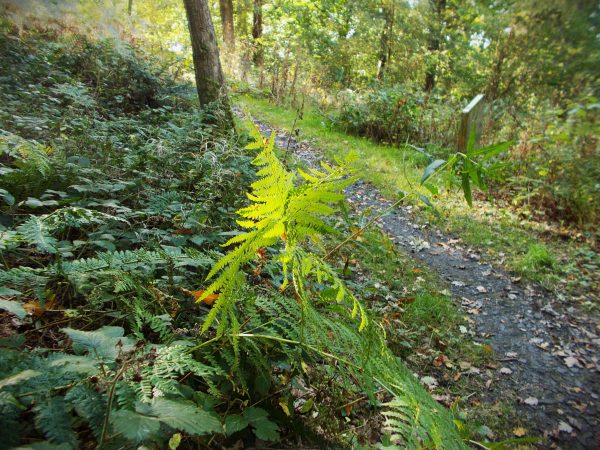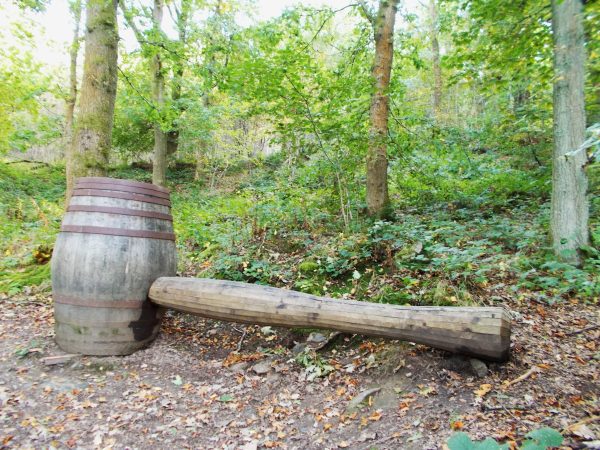 You'll find a Gorsedd stone circle from the 1919 National Eisteddfod and stepping stones across a stream. At the top is a stone monument built in 1863, which grants an epic view of Afon Dyfrdwy, gliding voluptuously through the valley. Ah yes, the river.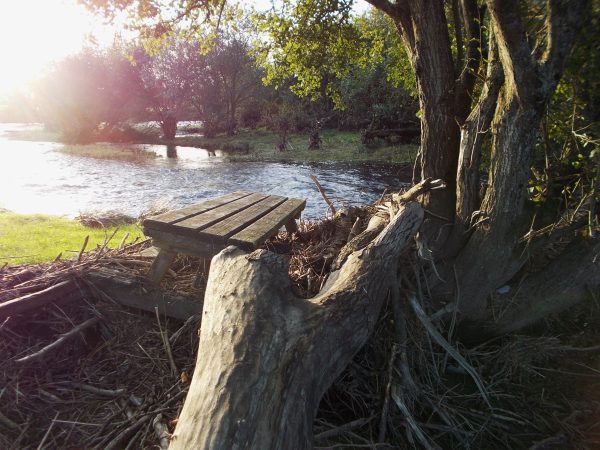 To reach it – and my favourite place in Corwen, head down Green Lane and follow the signs to Y Gro Isa. Between the sycamores, the old slate slab boundary markers are particularly evocative when kissed by evening sun. They lead you to an ancient field enclosure, as Afon Dyfrdwy approaches a bend. Y Gro refers to the river gravels here, where fish spawn. Thrips dance in the sunset. The rain has swelled the river, and floods the grass. Blue tits squeak in the alder. A wreckage of roots and trees has swamped a picnic table. It is a wonderful place from which to watch the delightful, dancing, Dyfrdwy.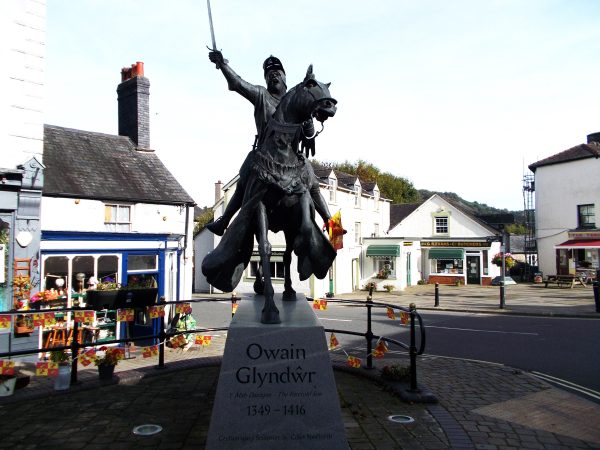 Llangollen
Llangollen, overlooked by Creigiau Eglwyseg, ensconced in its green vale, home to Dinas Brân Castle, Plas Newydd and the International Eisteddfod needs no introduction; it teems with visitors all summer long. But don't forget to visit Oriel Dory, a fine public-spirited art gallery.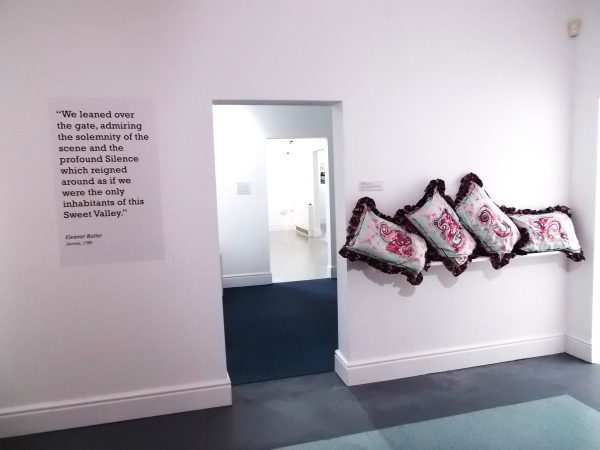 Afon Dyfrdwy is impressive here. Two miles out of town at Horseshoe Falls, you experience briefly, the ozone-saturated euphoria of walking between the river and Llangollen Canal.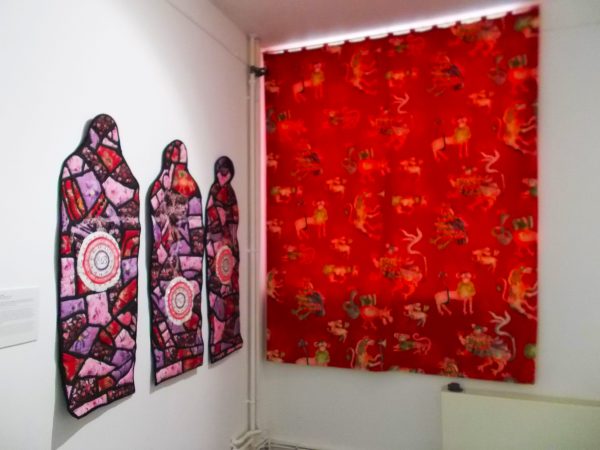 But my favourite place to view the river is from Deeside Café Bistro, or from the decking outside The Corn Mill. Here it douses you with white noise and spray as it cavorts over rocks, around tussocky islands, and beneath the old town bridge, all bristling with sedums, grasses and mosses. Here you will see herons. And if you are lucky, you may see the salmon in Autumn, flipping, jumping and powering upriver to their spawning grounds.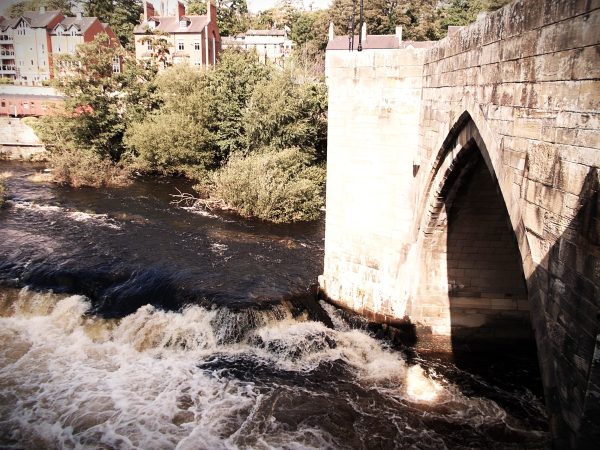 You can download the Corwen Town Trail and Llangollen Town Trail  if you want some more information here. We also have a previous blog about the emporium  in Corwen.