A visit to Moel Famau Donkeys
Yesterday we visited Moel Famau Donkeys on the foothills of Moel Famau.  This is a new venture for the family which have lived here for three generations. Starting out as a dairy farm, before becoming a sawmills as well as recently becoming a haven for the miniature donkeys.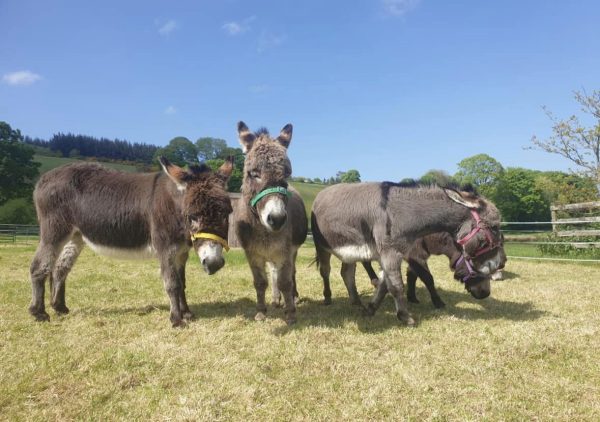 Mathew gave us a tour of the site and explained a little bit about how the idea came about. They had noticed the high levels of visitors to the mountain during lockdown, people who wanted to enjoy the outside and they realised they had an opportunity to share the special area that they live with visitors by offering interaction with the donkeys.  The donkeys were chosen with great care from a  sanctuary in Oxford, the initial idea to was to buy 4 but they fell in love with them and ended coming home with 6. Apparently, Donkeys are pack animals and tend to pair up. They are loyal characters and much friendlier than the Alpacas or lamas that they had initially considered.
They offer a meet and greet for all ages once a month and this appeals from toddlers right through to OAP'S.
They also offer a short distance walk using some obstacles and then a longer 2-hour trail which takes you over the path his grandfather used to use to take the dairy herd to pasture over their 40 acres.  They also host private parties and team building days. It seems the appeal of donkeys is universal and they often take the donkeys to appear at local events.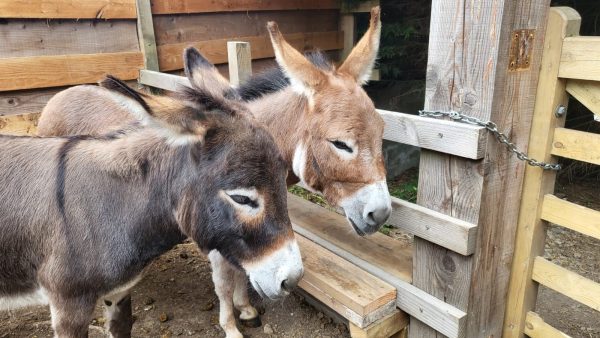 The businesses is as sustainable as possible using offcuts from the timber yard to build the stables and waste sawdust for the bedding.  They have a team of enthusiastic volunteers who take turns to care for the donkeys and they looked very happy indeed in their home on the mountain. The Wildlife trust supported their business with helping them plant wild meadows around the area and a local retired artist had created an amazing mural in the stable.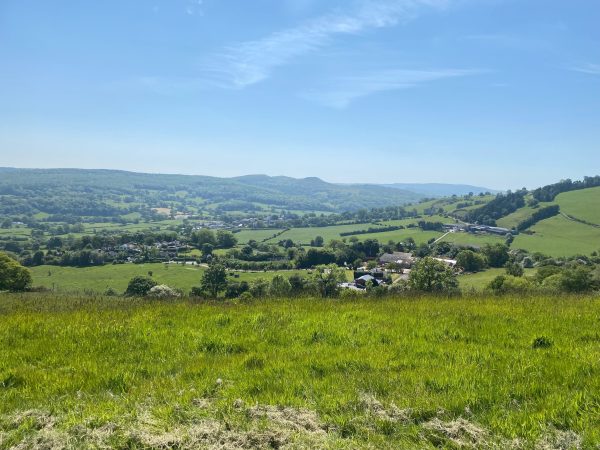 At present Moel Famau donkeys is open on weekday evenings and weekends with a plan to extend these times soon. They also have plans for some holiday accommodation on the site.
Mathew explained how his personal interest in supporting mental health also played a part and felt that peoples interaction with nature and the animals was an excellent way to work on positive mental health. They invited two organisations which support mental health Nerth dy Ben and the DPJ Foundation to their open day  in March, to create a link and focus on mental health and wellbeing.
Meet the donkeys
BESS
Bess is from Texas and our oldest Donkey. She is a little cheeky, but behaves if you speak to her in your best American Accent!
TILLY
Tilly is the youngest of the gang and Polly's daughter. She is grey in colour and has a super cheeky personality.
POLLY
Polly is Tilly's Mum. She has a kind and caring nature but loves attention! She enjoys nothing more than a good scratch.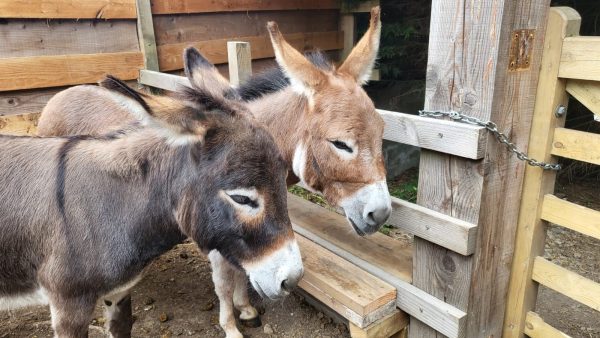 Nansi &Rosie
BLODWEN
Blodwen is the senior member of the group. Donkey Brown in colour, she is calm, wise and takes her time to enjoy the trail.
NANSI
Nancy is ginger in colour and the noisiest of the group. She always leads the trail and loves a snack.
ROSIE
Rosie is Polly's sister and Tilly's Auntie. She is inquisitive, loves the agility course and exploring.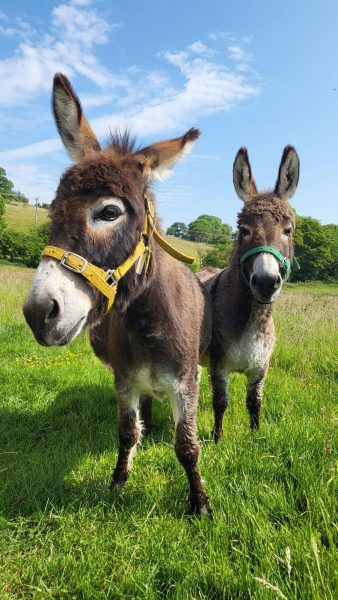 Rosie & Polly
Did you know?
Donkeys can vary hugely in size, from 26 inches to 68 inches tall.
A donkey's bray can carry up to 60 miles in the desert.
Donkeys have incredibly efficient digestive systems, utilising 95% of what they eat.
Donkeys don't like being in the rain for long periods as their fur is not waterproof they prefer warm weather.
Healthy donkeys can live well into their 50s.
A blind donkey will often bond with a seeing donkey who will act as their guide.
Donkeys can be a calming influence on other animals.
Donkeys are very clever with a keen sense of curiosity.
Donkeys are not stubborn but can be reluctant to do anything that might be unsafe – they consider situations before deciding what to do.
Donkeys are extremely nimble and can cross tricky terrain.
Donkeys are very sociable and form strong bonds – you will often see pairs of best friends within a herd.
Donkeys are different to horses in their physiology, communication, thinking and behaviour – they prefer other donkeys as companions.
So, if you fancy some one-to-one time with their donkeys please visit moelfamaudonkeys   for further info.