Peaceful Places; Bus 51 and 51B. Dinbych, Llanelwy, Bodelwyddan, Y Rhyl.
Both  the 51 and 51B will get you to all the places listed here. They depart from stand D in Rhyl bus station. The service provider is Arriva Cymru.   
Granted, whizzing along the A525 on a double decker is not exactly peaceful even though a top deck seat gives you an impression at least, of serene green county rolling by. But there are blissfully quiet sites and sacred spaces to visit en route. And with buses twice an hour between 6am and midnight, this is an excellent service for hopping on and off.
Dinbych
As you'd expect for a county town, Dinbych is rather lovely, with leafy gardens, aesthetic streets and age-wobbled ruins. Its wealth was established in the Elizabethan era as a centre of renaissance culture, after which it developed into a market town famed for glove making – riches which rose from ruins and strife.
The castle originated as the residence of Dafydd ap Gruffydd, was snaffled for the English by Edward I and subsequently attacked several times by the Welsh. It continued to be fought over in the Wars of the Roses and in the Civil War, when it was held by Royalist forces from 1642-48. After the Royalists' surrender following a relatively courteous siege, the castle (like most of them), was deliberately destroyed.
Now Dinbych is a gentle place to visit.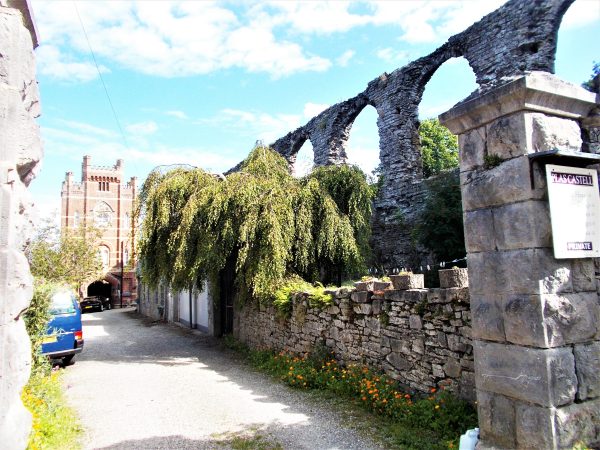 St David's (Leicester's) Church
Although (or perhaps because) this church was never completed, it is a serene structure now. In the 16th century, this was the ambitious project of Robert Dudley (Earl of Leicester) but when he died, the money ran out and building work ceased. The Renaissance-style arches are all that remain of his Puritan dream to create a Protestant preaching hall. But perhaps the church is all the lovelier for having the sky as a roof.
Town Walls
The town wall gate at Burgess Gate is kept locked but if you know how to get a key you're in for a special experience which you might have all to yourself. The narrow wall-top walkway leads you above town gardens. Grape vines extend, fruit dangles within reach, and then as you leave the cultivated town centre, columbine climbs the walls and wilder trees have dumped crab-apples onto the towers.
Turning a corner, views across Dyffryn Clwyd are so dazzling compared to the calming black depths of Goblin Tower, the whole experience becomes dream-like.
So how do you get a key to the walls? Well, as if partaking in a magic quest, I happened upon a privately-owned one, following a chance conversation with a man carrying a ladder. Otherwise, pop down to the library (which is in itself a haven) and ask to borrow theirs.
Llanelwy (St Asaph)
The roads are much busier since I was last here as a child, but wait – the peace is not yet gone. Though the small cathedral city is penned in by the A55 and the A525, with its medieval streets, honeyed ecclesiastical architecture (St Asaph parish church is also peaceful), independent shops, and leafy walks along Afon Elwy, Llanelwy, remains an oasis.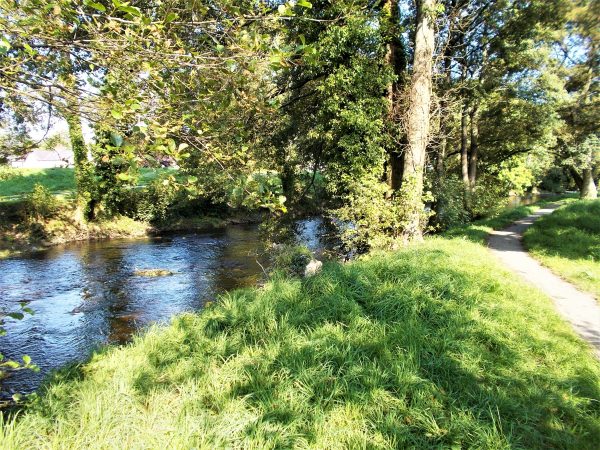 Llanelwy Cathedral
The cathedral grants Llanelwy its peace. Famed for its diminutive size, it occupies a tranquil space in the world despite its share of turbulent history. In the 13th century it was attacked by Edward I's troops, by Owain Glyndŵr's in the 15th century, and in the 16th century by Oliver Cromwell's soldiers, who (it is said), let their horses drink from the font. Yet still it harbours a fizzing kind of silence. Soft lamps glow in the choir stalls, lozenges of stained-glass light bathe the walls, while in the grounds the trees seem to whisper.
The cathedral also holds a place in my heart and in the hearts of anyone for whom the Welsh language is important because this is where William Morgan was bishop. It was William Morgan (with the help of Edmund Prys the poet), who translated the bible into Welsh – the Old Testament in 1567, a revision of William Salesbury's New Testament in 1588, and a Book of Common Prayer in 1599. Their work was fundamental in helping the Welsh language flourish. A sculpture honouring the translators, stands in front of the cathedral and somewhere in the tree-lined grounds, lost to time, is the grave of William Morgan.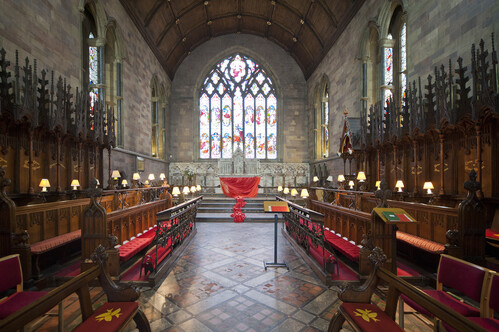 The Marble Church, Bodelwyddan
Built in the Victorian era, St Margaret's Church in Bodelwyddan is a prominent feature in the landscape, its gleaming white spire that spears the sky, impossible not to see and admire from the road. But it takes me two or three bus journeys to realise why the name Bodelwyddan is familiar. Bodelwyddan. This is where the Canadian soldiers are buried.
In 1919, WWI was over but 17,000 Canadian soldiers were still waiting on an army training camp in Kinmel Bay, for ships to take them home. Their living conditions were bitterly cold and cramped, rations were meagre and flu was rife. But several ships were cancelled and others intended for them took American soldiers instead. When riots broke out, 28 soldiers were injured and five killed. Four of the dead have a moving but peaceful resting place at least, at St Margaret's Church, along with 85 comrades – many of whom died of the flu.
The church is also remarkable for its marble. Fourteen types were used in its construction, including pillars made from Belgian Red marble, Purbeck marble bases supporting Languedoc marble pillars, and an Ynys Môn marble nave.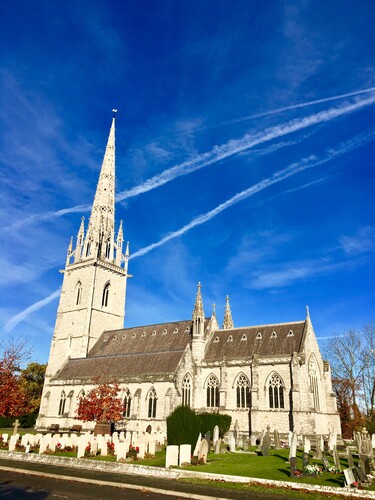 Rhyl
Perhaps Rhyl is not described as being peaceful. But stroll out on the vast slabs of sand as the tide retreats and you'll find space and serenity, and solitude if you want it, save for the mewling gulls.
And if, among the hubbub of shops and arcades, you just need a quiet place to sit for a while, you'll find the United Church opposite the police station is open from 9.00 – 5.00 Mondays to Fridays (and 11.00 on Sundays for services). Visit on a Thursday and you'll find a café run by volunteers, providing care, community and a safe peaceful space for all.