The Circular; 35/36, Arriva
This week we bring you Julie's second blog based on bus journeys on Denbighshire's coast.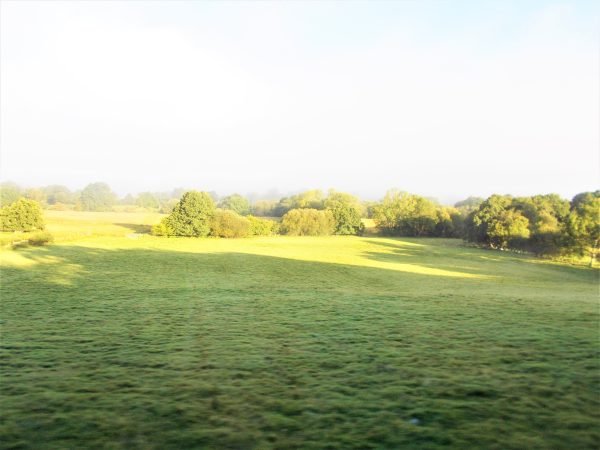 35 Rhyl (departing from Stand C) – Prestatyn – Dyserth – Rhuddlan – Rhyl
36 Rhyl (departing from Stand D) – Rhuddlan – Dyserth – Prestatyn
If you are nervous about bus travel the 35/36 is a good route to practise on. Buses leave every half-hour and this is a circular route so you can even mix it up and travel in the opposite direction – but whichever 35 or 36 bus you board you will arrive in Rhyl (or any of the places it serves) within the hour.  And there are multiple attractions along the way. So if you are holidaying in Rhyl or Prestatyn and fancy a taste of the wider county without going too far inland, the 35/36 is for you.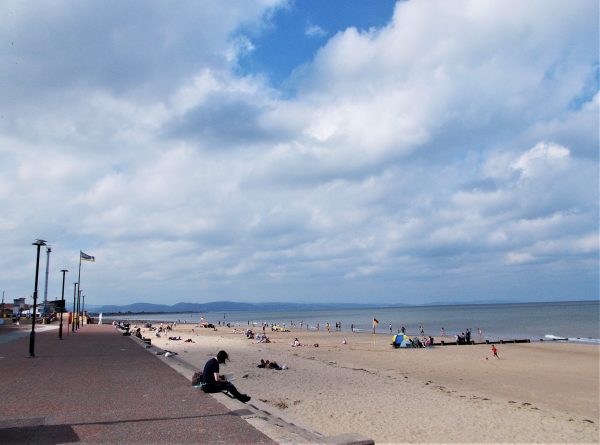 Rhuddlan
Rhuddlan is a small medieval town whose streets, church and Nature Reserve can be explored by walking trail. Gruffydd ap Llywelyn's Welsh seat of government in the 11th century was toppled by the invading Normans who built a motte and bailey castle at Twthill, which in turn was supplanted by Edward I's 13th-century English castle which is still imposing today. If you're in the mood for a pleasant riverside stroll, return to Rhyl along the 4-mile path following the east bank of Afon Clwyd.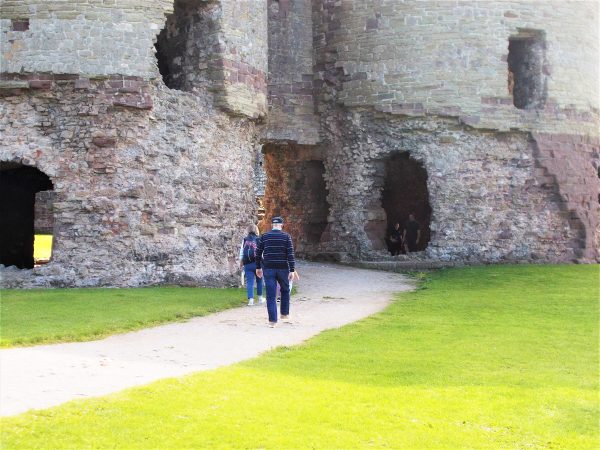 Rhuddlan Castle
Rhuddlan Castle was built by Edward I to subjugate and colonise Cymru so I approached it with mixed feelings. But the structure really is impressive – especially now it is so pleasingly ruined. The towers have such bashed and blasted apertures they resemble caves more than the bastion of colonial power they once were. Cranesbill springs from the crevices and wood pigeons nest in the holes which once held beams that supported the floors.
If you're lucky you'll bump into Alan who keeps the place tidy. Alan loves the castle so much he says it feels like he was born in it even though he's from Crewe. "I think it's a wonderful place considering all the really 'orrible things that must have happened here. It took 1800 men to dig the moat. Imagine how many it took to re-route the river! And if there was a landslide you just fell where you were. You were dispensable then." It's a peaceful place now. "Jackdaws come here a lot" Alan says "and obviously you've got badgers and the odd fox taking a pigeon. The rooks and crows are usually in the trees but they come in because it's such a lovely place for them to nest in winter."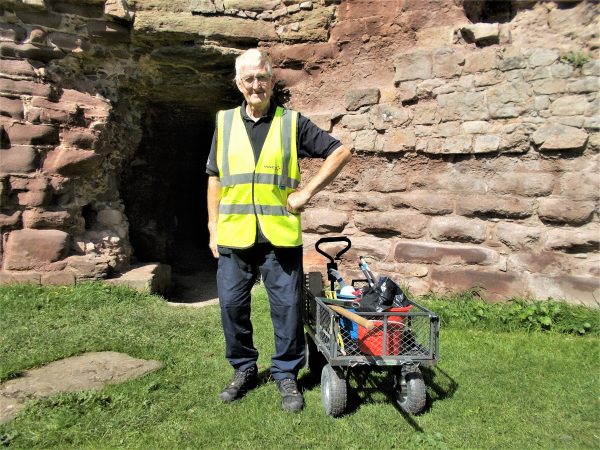 Refreshments
Rhuddlan has many cafes. I enjoyed the warm welcome I got from Emma at The Old Crown at the Castle even though I only had time for a glass of water. The atmosphere was peaceful and the customers were really enjoying their lunch. Omelettes and fresh sandwiches seem to be very popular. Meanwhile Bailey's Coffee Shop on the High Street has a community vibe and opens late one night a month for tapas. You can buy the Rhuddlan Community Group Walks book here (£2.50) along with delights such as fishcakes or falafels.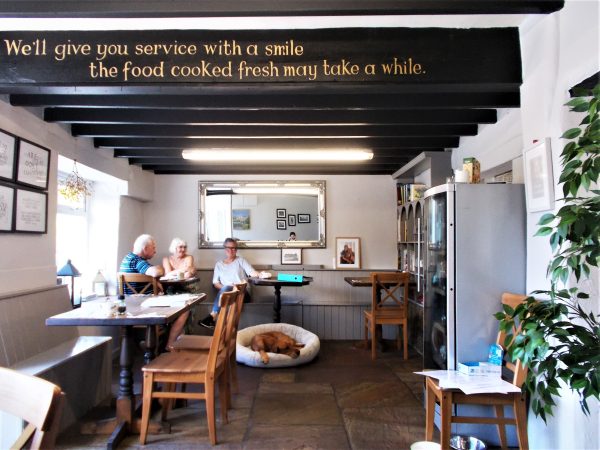 Bodrhyddan Hall
Plan your visit here carefully – jury is out on whether buses stop outside the hall or not – some drivers told me yes, others no. They dropped me off anyway, but be prepared to walk 1 mile to and from Dyserth.  Bodrhyddan is only open between June and September, on Tuesday and Thursday afternoons.
Bodrhyddan Hall is owned and lived in by the Langford family. Booking is necessary for a guided tour of the house to see period furniture, armour, and a 3000-year-old mummy, but not for the gardens and tearoom.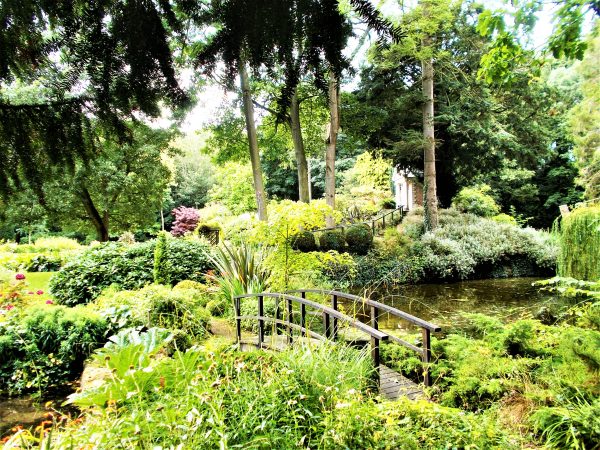 In the 19th century, the 17th-century hall (built on earlier foundations) was redesigned so that the original front door now overlooks a parterre (ornamental flower beds) while the new façade is accessed by a double avenue of trees. The avenue seems familiar as I walk in its shade, I have read about it somewhere. Didn't Clough Williams-Ellis have something to do with Bodrhyddan? "He was involved, yes" says my friendly Scottish guide. "He had a hand in the gardens. There are many springs and wells in this part of Denbighshire and the water gardens were developed around them." I could lose myself in these lush water gardens, evergreen with splashes of colour around ponds and trickling brooks – a delightful blend of wild and structured planting. But don't forget the tearoom (in the repurposed billiard room), presided over by Maureen when I visited, who served me a delicious slice of jam sponge.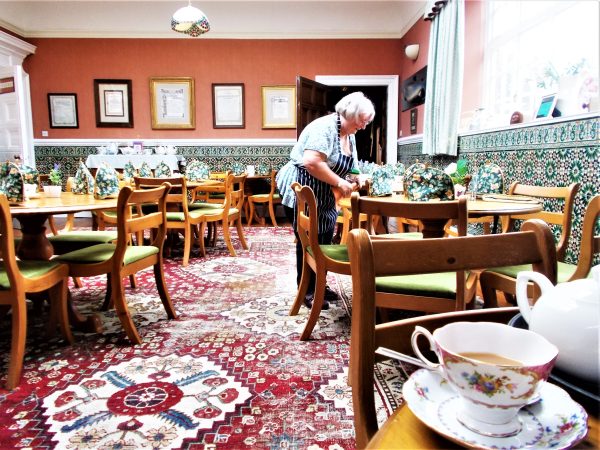 Dyserth
Lower Dyserth
Although agriculture, limestone quarrying and lead and copper mining have shaped Dyserth village, the waterfall lies at its heart. It is at the foot of the waterfall where the first religious establishment was probably founded in the 6th century – on top of which the church of St Bridget and St Cwyfan currently stands. Although the church was closed when I visited, the graveyard is interesting, with Afon Ffyddion running gently by, serene after its 21-metre plunge off a cliff.
Dyserth Falls
The waterfall is astonishing. Even if you find the commodification of nature a bit strange – you have to pay to see it – the fee is only 50p and there is something rather charmingly Victorian about it all – the landscaped gardens, the icecream parlour and how visitors are funnelled through gates and across a bridge to admire the cascade. And it is spectacular. A cool draft fans the spray, leaving you feeling spritzed and sanitised by the water droplets and the white crescendo of noise…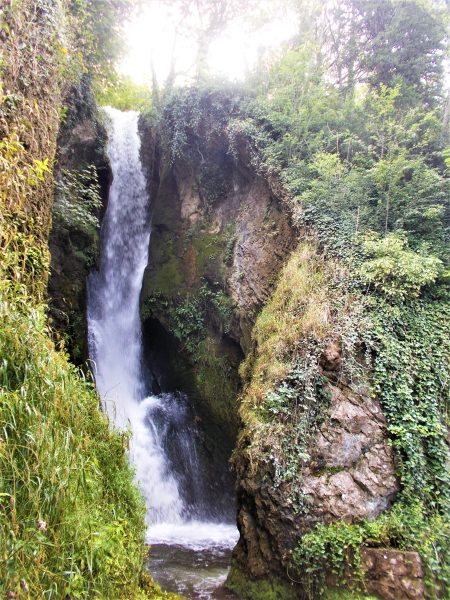 Upper Dyserth
The waterfall splits Dyserth in two – lower and upper. Climb the steps beside the waterfall, enjoying panoramic views, before entering a wooded glade at the top of the fall from which you emerge into a different world – the quiet lanes of Upper Dyserth.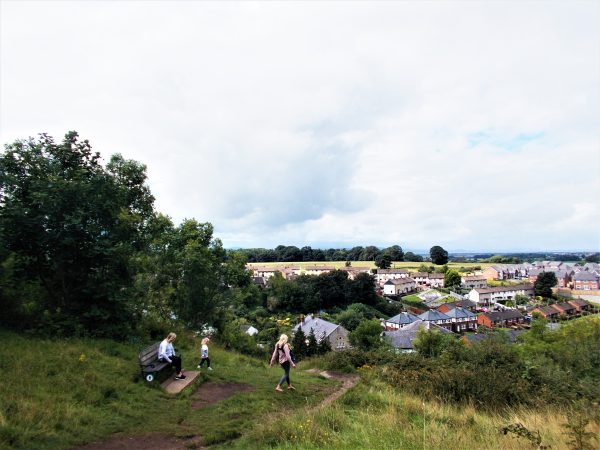 Work your way through the cottages to find a vibrant community along the main street. Vibrant but much less touristy than the outlets at the foot of the falls. Here you will find Frankies (Farm Shop and Café) which is a family-run dog-friendly hub of the community – Tony's soup and sandwich deal comes highly recommended. But if you'd like a snack on the go, Billy and David have a hot pie counter at the butchers. And if you're looking for gifts or a rainy day activity, there's a friendly vibe at Two and Throw where Louise sells ceramics and also runs pottery workshops.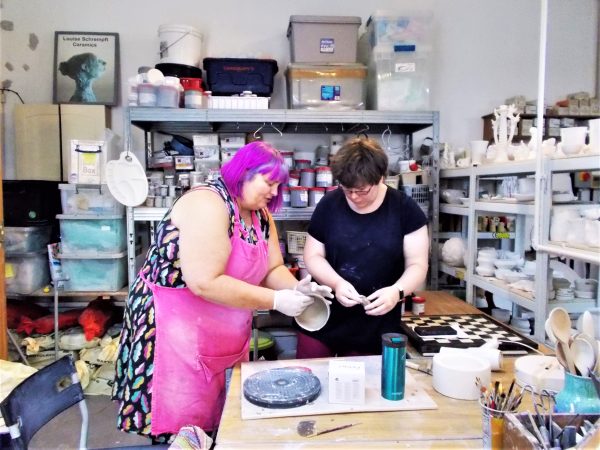 The Dyserth Way
If you're in the mood for a stroll, the Dyserth to Prestatyn Walkway follows the route of the old Prestatyn and Cwm Railway which served the lead and zinc mines and limestone quarries, and once also carried passengers. It is now an easy-grade and lovely wooded walking and cycle path. Follow it for 3 miles back to Prestatyn.
Alltmelyd (Meliden)
Alltmelyd lies halfway between Dyserth and Prestatyn. The bus stops in the village but I recommend walking from Dyserth along the Dyserth Walkway and then picking up the bus from outside the community centre if you don't want to continue the trail. Like Dyserth, Alltmelyd developed around lead mining and limestone quarrying of which The Walkway is a relic – being the old railway that served the industries.
If you prefer strenuous walks but don't have enough time to join Offa's Dyke Path or North Wales Path (both of which can be picked up from here) Y Graig Fawr is the perfect middle-ground. You can access the limestone crag overlooking the village from The Walkway.
Y Shed
If I lived around here you would find me in Y Shed. Y Shed overlooks the village and was once a goods shed on the railway – so is located on the Dyserth Walkway. Now it is an entity in its own right having been beautifully restored.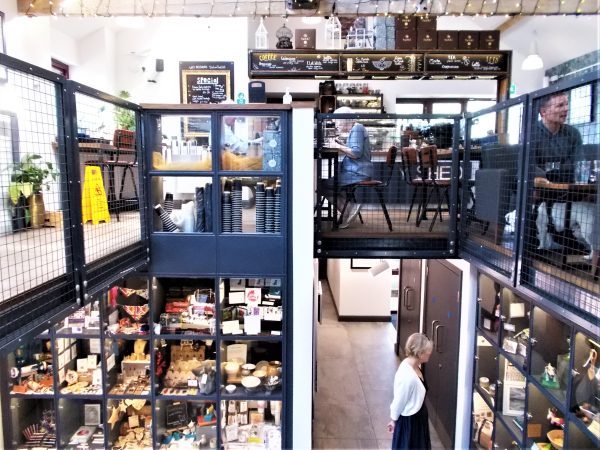 It is a heritage centre with displays about local history. It is a community hub and workspace, and venue for crafts people to sell their wares. Local businesses operate here from converted shipping containers. Tom for example, sells outdoor gear to passing walkers from The Trainer Container, while Matt supplies local businesses with bread baked at The Rough Edge Bakehouse.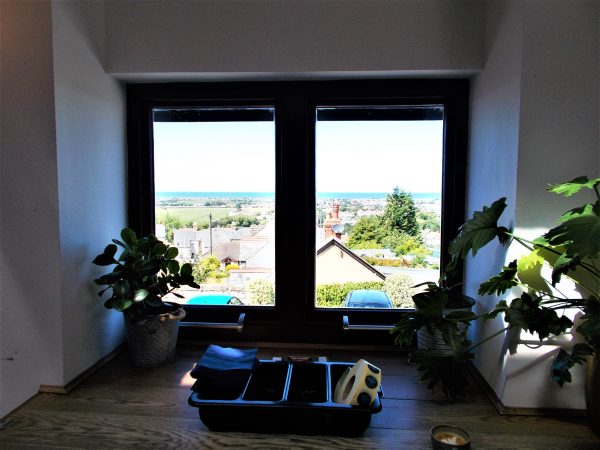 And upstairs there is a café, and that is where you would find me. Yes the food is delicious and a magnet to passing walkers and cyclists. But it is also a lovely space to sit and write or dream awhile, with comfy seats, beautifully curated art, sockets for home-workers or freelancers like me, and inspirational views out to the coast. Y Shed is a shady retreat in summer. 'But it also comes into its own in winter' says the cheerful waiter who serves me delicious quiche and salad. 'It's really cosy then.' He also shows me the roof terrace 'It's been raining' he says, 'but do you know, people still sit out here – I just wipe the rain off the seats for them and they love it!' And with views like this I'm not surprised.